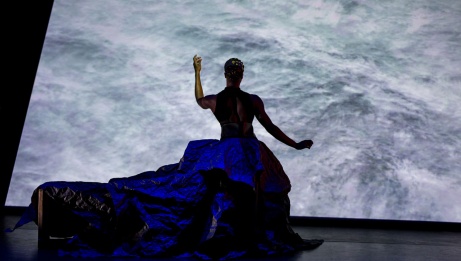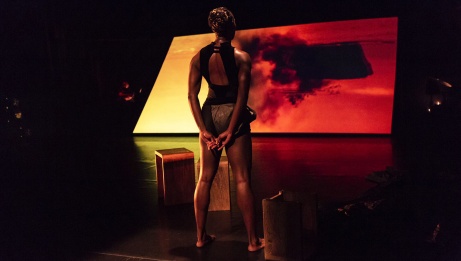 Francophone
Dance
Contemporary
"BOW'T TRAIL Retrospek is a palimpsest of solemn beauty, enriched by the research its actor has done and by each of the layers that have been added to her creation." Philippe Mangerel, JEU Revue de théâtre
In-person event

≈ 75 minutes · No intermission
BOW'T TRAIL Retrospek, the flagship work in the BOW'T series, is a conversation between the present and the past delivered through the channel of choreographer Rhodnie Désir's body, where more than 130 personal stories collected in seven lands of the Americas still reside. Since 2020, this landmark work and the artist's pioneering choreographic–documentary approach have been showered with acclaim and honours.
Since its premiere at Espace Libre (Montreal) in 2020, this work has received many honours including the Grand Prix and the Prix Envol (Prix de la Danse de Montréal, 2020). In 2022, BOW'T TRAIL Rétrospek will continue its journey from the Americas to Europe.
In 2013, Rhodnie created the work BOW'T. From this project and over the course of 10 years, nine pieces in nine locations and various powerful documentary elements (web documentary, web series, medium-length film) were created, as well as an exhibition. The totality of this journey bears the name BOW'T TRAIL. Today, the sole work that is touring is BOW'T TRAIL Retrospek.
Driven by her interest in and need to transcend her origins, since 2015 the choreographer has been conducting research in the Americas (Martinique, Brazil, Haiti, Canada, Mexico and the United States) to immerse herself in the African cultures and rhythms of the peoples who were deported there.
On stage, accompanied by two master musicians, Rhodnie Désir is transported by these rhythms. Backed by a rich and transcendent polyrhythmic soundscape, the power of her body is enveloped by video projections illustrating her encounters with the memory keepers who inspired her, thus uniting the audience with the material and immersing viewers in the multidimensional textures, images and sounds of the work.