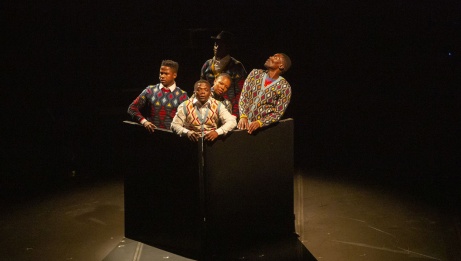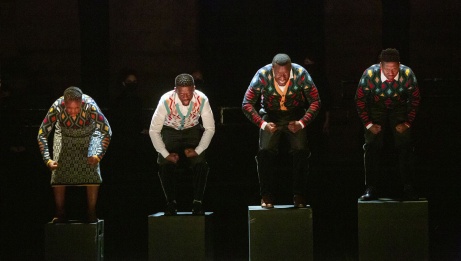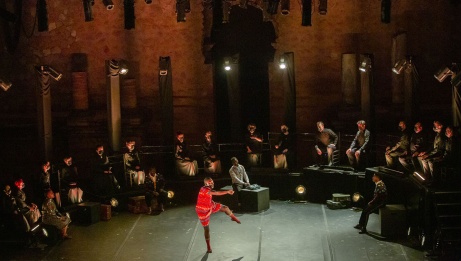 "A work sung and danced, but above all felt, of how to relive experiences that do not belong to us and try to understand once more (and as many times as necessary) the other world, the other reality that we have in front of us." Maria Sanchez, 21 July 2021 Bachtrack
In-person event

≈ 60 minutes · No intermission
One of South Africa's leading choreographers, Gregory Maqoma conceives works of breadth and beauty, and keen political awareness. With composer Thuthuka Sibisi, he creates a dramatic retelling of the late 19th century South African choir on tour in North America and England. Traditional Xhosa and contemporary dance intertwine with sound and storytelling, accompanied by a live local choir.
Interweaving past and present, Maqoma uses traditional Xhosa and contemporary dance to thread together personal stories of South Africa's first Black choir, The African Native Choir, which toured England, the U.S. and Canada in the late 1800s. No sound recordings of the tour have survived, despite the fact that the choir sang for Queen Victoria. Only a handful of photographs remain, and they have been used to create an exhibition at the Apartheid Museum in Johannesburg. When he visited the museum, Maqoma found himself transported by the photographs and the music composed by Thuthuka Sibisi and Philip Miller, and began to dance in the centre of the gallery for over 40 minutes, letting the music wash over and through him. This transcendent experience was the inspiration for Broken Chord.
Backed by a quartet of vocal harmonies together with Ottawa's Capital Chamber Choir, Maqoma interweaves the worlds of music and dance to explore his identity, his memories, and the stories of the colonized and the colonizers.