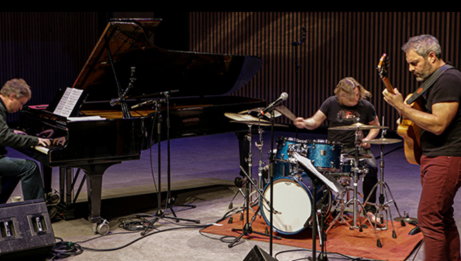 Indigenous arts
Music
Jazz
Gordon Grdina – guitars, oud
Matt Mitchell – piano
Jim Black – drums
Complex, intricate, idiosyncratic, and rockin'—those are the adjectives that best describe this cross-border collaboration between Vancouver guitarist Gordon Grdina, and NYC's Matt Mitchell piano, and Berlin's Jim Black drums. Juno Award winner Grdina's compositions give the nod to 20th century classical composition, rock, free jazz, and third stream, and this trio promises to explore those ideas at their highest levels. Juno (Canadian Grammy) award winner Gordon Grdina's musical output is diverse, including 10-piece Arabic/avant-garde ensemble Haram, the intricate GG Quartet (Oscar Noriega, Russ Lossing, and Satoshi Takeishi) the cinematic Square Peg (Christian Lillinger, Shahzad Ismaily, Mat Maneri), Improvising Collective Shipp/Helias/Grdina, and contemporary improvising Persian-influenced ensemble The Marrow (Mark Helias Hank Roberts and Hamin Honari).
Jim Black is a legend in the downtown New York jazz and improv scene and a world-renowned drummer. He has been part of legendary groups Endangered Blood, Tim Berne's Bloodcount, and Human Feel as well as leading his own groups the Jim Black Trio, Alas No Axis, and Malamute.
Matt Mitchell is a mainstay on the New York jazz scene playing with internationally acclaimed ensembles like the Dave Douglas Quintet, John Hollenbeck's Large Ensemble and Tim Berne's Snakeoil. He also leads his own Quartet, Phalanx Ambassadors, Snark Horse and Friction duo with Ches Smith.