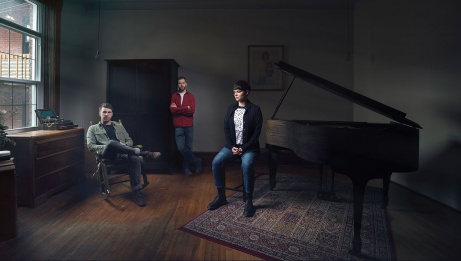 "Through the piano, Gentiane MG transcends emotions and thoughts and plumbs the unknown." Peter Hum, Ottawa Citizen
Pianist and composer Gentiane MG perceives music, above all, as a powerful means of expression. Her compositions come together in a deeply personal universe filled with contrasting colours that transport the listener between dreams and reality. She is joined by bassist Levi Dover and drummer Louis-Vincent Hamel, two pillars of the Canadian creative jazz scene, who contribute their original voices to her music. Over several years of performing and touring together, the band has developed its own language, transcending genre and striving for creative freedom.
MG's compositions reflect her early development as a classical pianist, incorporating the aesthetics of impressionism with the improvisational approach and rhythmic sensibility of contemporary jazz. From a more personal perspective, her most recent repertoire was born from a long search for meaning.
"Walls Made of Glass is composed of music inspired by a recent change in my perception of the world outside myself. I started to feel the power of life through objects, animals, plants and sounds in a way that I had never truly been able to before. Their ephemeral quality became apparent to me, momentarily creating tangible magic, profoundness, beauty, and meaning. Music has an incredibly strong power to keep moments alive from reality that are long gone, reflecting their beauty into the world endlessly."
Gentiane MG has released two albums with her trio, Eternal Cycle (2017) and Wonderland (2019) and will be releasing Walls Made of Glass on September 23, 2022. She has received several awards for her work with her trio, including the OPUS Award for Discovery of the Year in 2020, the CBC/Radio-Canada Jazz Award in 2018 and the François-Marcaurelle de la GMMQ Award in 2017.