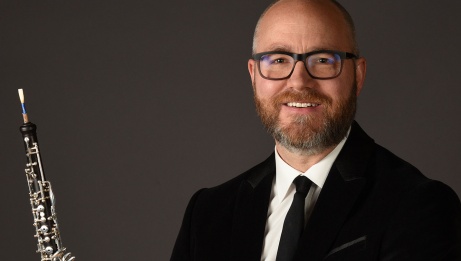 Music
Classical music
Chamber music
Kevin Lau In the Garden of Endless Sleep for oboe and piano
Kelly-Marie Murphy Glacial Ablations
Ian Cusson

Sonata for Oboe and Piano, "The Haywain"
In-person event

Bilingual

≈ 45 minutes · No intermission
NACO's Principal Oboe Charles Hamann has established himself as an enthusiastic champion of new music and over the past decade, he has commissioned many works from leading Canadian composers for solo oboe and oboe with piano. This recital with him and pianist Frédéric Lacroix features three recent commissions by Kevin Lau, Kelly-Marie Murphy, and Ian Cusson. Each work is an expressive response to striking scenic images—be it conjured up in a writer's imagination, a Canadian natural phenomenon, or a vividly painted triptych.
To create In the Garden of Endless Sleep (2020), Kevin Lau (b. 1982) was inspired by a fictitious place in Gene Wolfe's science fiction novel The Book of the New Sun—an image of "a garden that moves through time, flickering between present, past, and future". The piece explores the "idea of viewing the garden—a cultivated slice of natural beauty—through various stages of growth and decay." "I tried to capture this in part," he explains, "by evoking musical memories from older time periods in a somewhat hazy fashion, and in part through texture—in particular, the use of the piano's sustained pedal to blur certain harmonies together. […] The melodious but often asymmetric oboe lines suggest the contours of vines and roots and the sprawl of overgrown vegetation."
For Glacial Ablations (2022), Kelly-Marie Murphy (b. 1964) chose three terms from the field of glaciology and "tried to create music that responds to them. The title refers to the loss of ice and snow in a glacial system due to climate change." "The first movement, Crystalline Elements," she elaborates, "is slow, and features not only delicate structures in the piano, but also space and drama, in which translucence and opaqueness mingle with the human response. The second movement, Ice-Sizzle, is very fast, powerful, and urgent. The term refers to the sound glaciers can make, which is like carbonated water. The final movement, Runoff, has to do with evaporation and deterioration of the glacier. It begins with cadenza-like moments in the oboe and piano and features upward moving lines. The runoff intensifies as the forces of moving water grow in ferocity and urgency."
Ian Cusson's Sonata for Piano and Oboe, "The Haywain" (2020), is the second of three works by the composer (b. 1981) based on images from the late-Medieval painter, Hieronymus Bosch. The sonata unfolds in three movements, titled Dignified, Simply, and Wild, respectively. These are, as Cusson explains, "in dialogue with Bosch's The Haywain Triptych, painted in 1516, and follow the painting's three panels as they progress from an Edenic state to Hell with all its absurdities. The image is dominated by a giant bale of hay at the work's centre around which crowds of people cavort under the benevolent watching eyes in the clouds above them."
This event will be ASL interpreted.