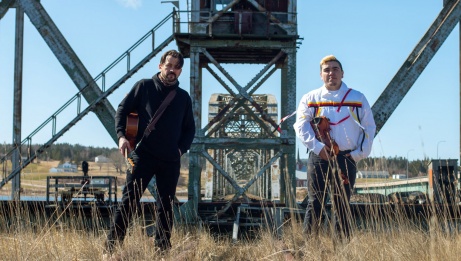 Family programming
Indigenous arts
Music
Vocal
Singer/Songwriter
Folk
In-person event

Bilingual
Music's an almost alchemical force to Canadian Mi'kmaq fiddler and singer Morgan Toney. In just a short amount of time, Toney's been able to invigorate both the Atlantic music communities and Mi'kmaq communities by bringing together the fiery fiddling of Cape Breton Island with the old songs of the ancestral Mi'kmaq, some dating back up to 500 years. He calls this fusion Mi'kmaltic (Mi'kmaq + Celtic) and it's his way of celebrating his language and heritage. He's honoring the elders who've taught him the songs and the language, and he's taking his place on the front lines of Eastern Canada's cultural divide.
In his album First Flight, Toney sings songs so old that modern Mi'kmaq speakers struggle to understand the lyrics. He also sings songs meant to reflect the turmoil of our current times, shining a hard light on the racism and violence forced on First Nations populations in Canada today.
With family members who were sent to residential schools and had to relearn their language later at home, Toney's interest in the language is very personal. "Some people don't understand us," Toney says. "They don't understand what we've been through, and we need to tell the story." But never one to focus on the negative, Toney's goal is to push for positive action and change through music. "We wanted to say something in the way that we know how, through music."
This event will be ASL interpreted.