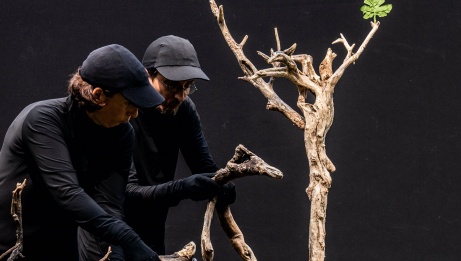 Francophone
Family programming
Theatre
Summer events
"A green leaf that grows on a dead branch, pieces of wood that come together to form strange creatures, some hostile, some comical… A curious world that surprises, amazes, and inspires. A world that also makes you think and wonder. "
In-person event

Français

≈ 40 minutes · No intermission
Puzzle Théâtre creates an atypical, colourful puppet show, full of humour and unexpected situations. Creating a world of wonder filled with imagination that surprises, amazes, and inspires.
Founded in Bulgaria and established in Montréal, Puzzle Théâtre has its own unique style that draws from many different theatre genres, namely, object, puppet and actor theatre. Puzzle Théâtre is known for their dynamic means of expression that invites the audience to interpret unspoken meanings, gestures, and ideas to feel what is not explicitly stated.
Created and performed by Csaba Raduly and Pavla Mano with original music by Petya Nedeva
Performances of Bois/Wood on July 11 + 17 will be LSQ interpreted.