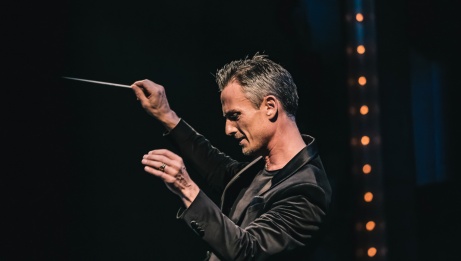 Music
Classical music
Masterworks
Vocal
Opera
New works
"Atwood's precise, heartfelt language elicited a profoundly empathetic score from Heggie; the music—tender and twinkling, haunted and sad—embodies a sibling's love being forced to incorporate sorrow." The New Yorker
EMILIE MAYER Faust-Overture, Op. 46
JAKE HEGGIE, MARGARET ATWOOD Songs for Murdered Sisters
In-person event

≈ 2 hours · With intermission
Canadian baritone Joshua Hopkins performs Songs for Murdered Sisters*, a deeply personal new song cycle that conveys the tragedy of lives needlessly lost, composed by Jake Heggie based on original poetry by Margaret Atwood.
Bookending the concert are the Faust-Overture by Mayer and Brahms's furiously passionate Symphony No. 4.
Co-commissioned by the National Arts Centre and Houston Grand Opera, Songs For Murdered Sisters is dedicated to the memory of Hopkins's sister Nathalie Warmerdam, Anastasia Kuzyk and Carol Culleton, and victims of gender-based violence.
The Women's Sexual Assault Centre of Renfrew County offers support to women who have experienced or are experiencing some form of sexual violence. They also offer support to family members, as they did for Joshua's family when his sister and two other women were murdered in 2015. Please donate to the WSAC to help them support our community.
---
*A Work Jointly Commissioned by Canada's National Arts Centre Orchestra and Houston Grand Opera.
Piano and Voice Premiere [March 8, 2022] at the Rothko Chapel in Houston, Texas
Orchestra and Voice Premiere [February 9-10, 2022] in Southam Hall, at the National Arts Centre in Ottawa, Canada
Poems by Margaret Atwood © (Based on the original poems by Margaret Atwood © Margaret Atwood 2020).
Margaret Atwood's poem Songs for Murdered Sisters is from the collection Dearly, published by HarperCollins US,
Penguin Random House UK and Penguin Random House Canada. Dearly is published in French by Editions Robert Laffont.
The score for Songs for Murdered Sisters is published by Bent Pen Music, Inc. ("Bent P Music" BMI) Represented by
Bill Holab Music (www.billholabmusic.com) All rights reserved.