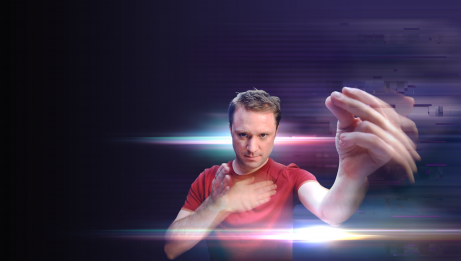 ANNA THORVALDSDÓTTIR

Aeriality

Nicole Lizée

Blurr is the Colour of My True Love's Eyes

Igor Stravinsky

The Rite of Spring
NACO Spring Offer: Bring a friend to a NACO concert in the 2021-2022 season and receive 50% off both of your tickets – that's two seats for the price of one! Offer valid for a limited time and only for select NACO performances. Discount available on regular priced tickets only and cannot be combined with other offers.
Conductor: Alexander Shelley
Guest artist: Colin Currie (chamber percussionist)
World premiere; Commissioned for Colin Currie by Canada's National Arts Centre Orchestra and BBC Radio 3
The NAC Orchestra is delighted to perform the world premiere of Canadian composer Nicole Lizée's Blurr is the Colour of My True Love's Eyes, featuring Colin Currie, a solo and chamber percussionist at the height of his powers.
Nicole's work effortlessly merges worlds that aren't necessarily found together in music, reaching beyond the classical realm to capture devotees from Gen X and beyond.
"This new work for solo percussion and orchestra from the extraordinary Nicole Lizée fills me with great excitement," says Colin. "Maestro Shelley and I were both delighted when we hit upon a mutual admiration for her music some years ago, so to have this project come to fruition in Ottawa is a marvellous outcome."
Aeriality, by Icelandic composer Anna Thorvaldsdóttir is a spellbinding creation – "a big spinning planet of a work" (Washington Post) – that utilizes the great, primordial force of an orchestra. In her own words, Aeriality "refers to the state of gliding through the air with nothing, or little, to hold on to." The result is a feeling both of unease and freedom as the instruments of the orchestra stream together to form a single force."
Legend has it that the premiere of Igor Stravinsky's volcanic The Rite of Spring famously caused a riot at which 40 people had been arrested by the end of the first part.
Abstract, edgy, modern, and magical, The Rite of Spring was written for the 1913 Paris season of Ballet Russes, but Stravinsky's music has achieved far greater recognition than the ballet it was written to accompany and is revered as one of the twentieth century's most influential musical works.
As part of NACO's inaugural Mentorship Program, the Orchestra is bringing in 50 of the world's rising stars—outstanding players who embody the next generation of orchestral artists—to perform Stravinsky's great work. With over 100 musicians on stage, these incredible performers are sure to bring the heat!