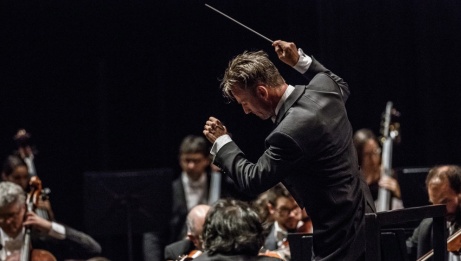 Special Events
Music
Classical music
Masterworks
Singer/Songwriter
Nicole Lizée Zeiss After Dark
Korngold

Concerto in D Major, Opus 35, for Violin and Orchestra (Blake Pouliot, soloist)

Philip Glass

Symphony No. 13*
*WORLD PREMIERE: NAC Orchestra commission of Philip Glass on the theme of Truth In Our Time in tribute to Canadian journalist Peter Jennings.
NACO is back on tour! Under the direction of Alexander Shelley, and featuring violin soloist Blake Pouliot, NACO presents the world premiere of Philip Glass's Symphony No. 13, a work commissioned by the Orchestra on the theme of Truth in Our Time. Celebrate with us and be a part of this exhilarating orchestral experience with performances at Roy Thomson Hall in Toronto, Carnegie Hall in New York, and finally, bringing it back home to Southam Hall at the National Arts Centre!
The world premiere of Philip Glass's Symphony No. 13, is a moving tribute to Canadian journalist Peter Jennings. Mr. Jennings was not only a highly respected news anchor for ABC News, he was also a trustee of Carnegie Hall during his years in New York City, the founding director of the American chapter of the Friends of the NAC Orchestra, and served as a lifelong champion of Canadian artists generally.
This invigorating concert program opens with Nicole Lizée's beautifully profound Zeiss After Dark, which evokes the cinematographic effect of the Zeiss lens, used to film intimate scenes lit only by candles. The piece will lead the audience to the program's theme through a contemplation of perspectives and filters. Her piece will be followed by two works that speak to the idea of freedom of speech and the political implications of its disruption.
We are delighted that Blake Pouliot, the brilliant, young Canadian violinist, will be our soloist playing Erich Korngold's Violin Concerto in D Major, Opus 35 for Violin and Orchestra in our program at Roy Thomson Hall in Toronto. Korngold fled to the United States during World War II, where he stood staunchly against oppression and became an influential composer for Hollywood films.
Shostakovich's Symphony No. 9 was expected by Stalin to be a grand work celebrating his regime, but instead the composer took a subversive, satirical approach, delivering a spirited work filled with humor rather than heroism, and this disruptive message commended the work to obscurity for the rest of Stalin's life.
The final piece on our program, specifically composed by Philip Glass to speak to the notion of Truth in Our Time, serves as the culmination to a truly thought-provoking evening. Be among the first to witness the premiere of Philip Glass's latest composition – we'll see you on the road!
A note from Alexander Shelley, Music Director, NACO:
"We chose the Korngold concerto because it speaks to the theme Truth in Our Time, as do all the compositions we will be playing on the tour. We will open with Canadian composer Nicole Lizée's Zeiss After Dark, followed by Dmitri Shostakovich's Symphony No. 9, and of course the North American premiere of Philip Glass's Symphony No. 13. We hope to share a compelling, engaging and memorable concert that reflects on global challenges such as truth and freedom of speech."