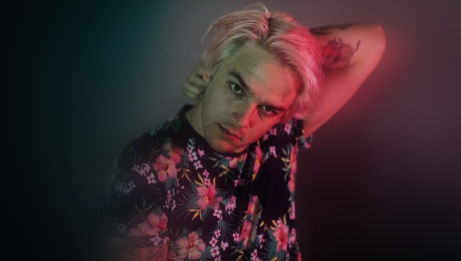 Francophone
Music
Singer/Songwriter
Pop
Folk
Given the COVID-related restrictions in effect, this concert will take place as a free livestream only.

Born and raised in Petit-Rocher, northern New Brunswick, Matt Boudreau could probably be tripping on crows, but he prefers gulls. He's been dragging his ruffled feathers, guitar fuzz, and tales of ordinary slip-ups around New Brunswick stages for the past few years. From 2012 to 2019, there were contests where he surely stood out (Jamais trop tôt, Accros de la Chanson, Sommet de la Chanson de Kedgwick, Festival en Chanson de Petite-Vallée, Festival International de la Chanson de Granby, Gala de la Chanson de Caraquet...) as well as his music studies.
In 2018, he released his first album "Goéland". Matt presented a hyperactive folk rock sound inspired by Leloup's maw, Presley's hips and Carl Carmoni's birdies. Firmly anchored in his lane but swooping from one style to another like a seagull between an old Chip and the horizon of the Bay, he sings about the world as seen from home, in a language that resembles it. His pen brings together the plows of Dauversière, the depressions of the heart soaked in gin, love as a beast to be tamed, and cheese that melts on poutine. We sometimes meet characters who seem as if they had come out of the bottom of a bottle after a hazy night.
His second album, "Armageddon", released on August 7, 2020, takes him to other, more assertive musical styles. The album, which features all music and lyrics, production, sound engineering and art direction by Matt Boudreau, features 11 songs recorded in his home studio, Mouette Sounds Studio, in Petit-Rocher. This all-French album is about the end of the world, about leaving, about break-ups. The title, as well as a large part of the songs, have been in Matt Boudreau's head for over three years. "I was inspired by Boy Pablo, Mac Demarco, Beach House and also, I imagined my house surrounded by the sea, a bit like my Gilligan's Island, Acadian version...". In his lyrics, Matt evokes his sometimes nebulous vision of life, the big bang of love and break-ups, but also the gravitational and meteoric elements of mental health. The colourful, mainly synth-pop alternative record goes beyond that, however, by offering various styles in a relaxed atmosphere and catchy rhythms. The lyrics of the songs, like the melodies, are catchy, and it doesn't take much to get you singing along with the artist...
Scoop, after several music videos, a very mini EP of 2 Christmas tracks released in 2020, the development of his studio Mouette Sounds and in the same time a strong commitment with the band Baie of which he is one of the pillars, Matt Boudreau's third album is already in the works... The least we can say is that this artist has a very busy pen!