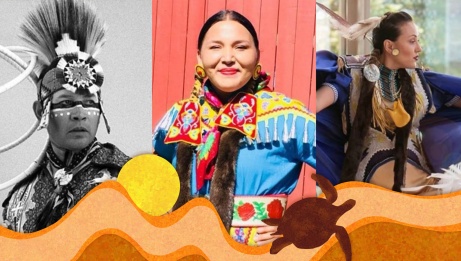 Indigenous arts
Dance
Children
English

≈ 45 minutes · No intermission
Get on your feet for this interactive workshop for students where you will learn about powwow, regalia and powwow dancing. Find out the meaning behind the dances, how powwows were outlawed in by the Canadian government in the late 1800s and early 1900s, and how they are important part of Indigenous culture and community today. Open to schools and organizations.
Grades: 5 - 12
Language: English
Length: 45 minutes
Class Size: With purchase of ticket, this workshop can be streamed to either a single classroom, or up to several classes at once
September 27th - Josée Bourgeois (Algonquin, fancy shawl and jingle dress)
Born in Ottawa, Josée Bourgeois is an Algonquin First Nations from Pikwakanagan, ON. She is an accomplished dancer, actor and model, who began her training as a gymnast and contemporary dancer. At the age of 16, she was signed to the Ford International modelling agency and began a lengthy journey as one of Canada's only First Nations high fashion models. It was during her teenage years that she learned about her father's Algonquin heritage. Her father was a Sixties Scoop baby adopted into an Irish family, and her grandmother was a residential school survivor from the Ottawa Valley area. At 23, she made the commitment to become emersed in her culture. Using skills she had developed as a contemporary dancer to connect with others, she self-trained to become a pow wow dancer specializing in "fancy shawl."
Over the past 12 years, she has travelled the Eastern Pow wow Trail as a Fancy Shawl and Jingle dress dancer, making roots with her son Little Thunder, creating a positive impact through dance arts on her ancestral Algonquin territory and through collaborations with artist like DJ Shub, DJ Classic Roots, and DJ Rise Ashen. She has studied with the multidisciplinary Australian-based Indigenous artist Victoria Hunt at the Banff Centre for Arts and Creativity, has performed in the National Arts Centre's Wild West Show- Gabriel Dumont Story, and as Kina Nimiwag (Contemporary pow wow dance troupe) in the opening act for the Backstreet Boys at Ottawa's Bluesfest 2019. A generous leader with a strong vision for change, she has employed her dance skills in a variety of environments and institutions to facilitate healing journeys for others. She is committed to reclaiming space as an Algonquin Artist all over Turtle Island and across the world.
September 28th - Alex Wells (Sisqua7, traditionl hoop dance)
Alex Wells is an internationally award-winning Hoop Dance Champion from Mount Currie, British Columbia. Alex is a member of the St'át'imc Lil'Wat tribe, and was brought up through cultural ceremonies, including Hoop dance, which is a healing Medicine Dance, also known as a "Creation of Life dance".
September 29th - Amanda Fox (Ojibwe, jingle dress)
Amanda Fox is Ojibwe from the Unceded Territory of Wiikwemkoong, Ontario. Born and raised in Ottawa, Amanda has been able to spend most of her life engaging in her culture with songs, dance and artwork while living in "the big city." Amanda began dancing at the age of 2 and now dances Old Style Jingle Dress. She has a profound knowledge of all styles of powwow dance and protocol. Amanda has been teaching powwow dance to women since she was a teenager and enjoys spreading awareness of Indigenous culture through her songs and artwork as well. Performing her dance since she was a child, she has had the honour of dancing for Prime Minister Justin Trudeau and former Prime Ministers Stephen Harper and Jean Chretien, Mayor Jim Watson, the National Arts Centre, school graduations, videos, events, etc.
Instructions:
1. Select which time slot you would like to purchase
2. Once purchase is confirmed, an NAC staff member will be in touch via email to provide the Zoom link and teacher's guide