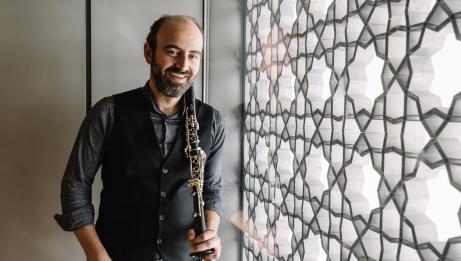 Music
Classical music
Chamber music
Global music
Recognized for his participation in Yo-Yo Ma's "Silk Road Ensemble" (including a recent Grammy win), Kinan Azmeh has been hailed as "intensely soulful" and a "virtuoso" by The New York Times and "spellbinding" by The New Yorker. Both as a clarinetist and composer, Kinan has gained international recognition for what the CBC has called his "incredibly rich sound" and his distinctive compositional voice across diverse musical genres.
Originally from Damascus, Syria, Kinan Azmeh brings his music to all corners of the world with notable appearances that include the Opera Bastille, Paris; Tchaikovsky Grand Hall, Moscow; Carnegie Hall and the UN General Assembly, New York, to name just a few. His compositions include several works for solo, chamber, and orchestral music, as well as music for film, live illustration, and electronics.
He'll be bringing his New York "Arabic-jazz" quartet the Kinan Azmeh CityBand to the NAC!
The NAC Foundation would like to acknowledge the generous support from Mohammad and Najla Al Zaibak (Bay Tree Foundation).