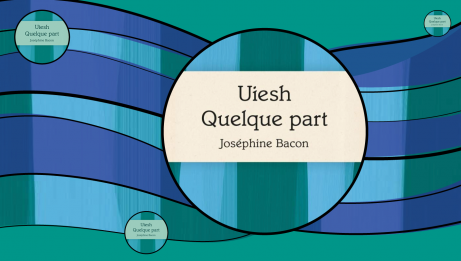 Francophone
Indigenous arts
Talks
Facebook Live event

≈ 1 hour · No intermission
In partnership with the Ottawa Public Library, Our Stories: Indigenous Book Club runs from January - June 2021, with monthly books including poetry, fiction, memoirs and plays. At the end of each month, join us for an online conversation with each book's author on Facebook live.
Our March book is Uiesh = Quelque part by Joséphine Bacon. Please note that this book is offered in French only.
On March 31 at 7pm EST, join us for this live, online discussion with author Joséphine Bacon in conversation with Innu poet and actress Natasha Kanapé Fontaine to discuss the book.
We'll be sharing reflection questions in our book club Facebook event throughout March. Feel free to engage and share your thoughts about the book throughout the month!
Click here to borrow the book from the Ottawa Public Library.
--
March's book - Uiesh = Quelque part by Joséphine Bacon
About the book
In Quelque part, ou Uiesh ("somewhere, or Uiesh"), I step away from my territory; sometimes I acknowledge it, because I could never be far away. I get anxious because I am a stranger in this place (the city) that keeps reminding me that it is the one writing these words. I would like to be a simple poet and believe in that. There are departures, there are déjà vus, there are somewheres I find myself in, and there are myself and my poems with their simple words.
About the author
Joséphine Bacon is an Innu poet from Pessamit, born in 1947. A director and lyricist, she is considered one of Quebec's leading authors. She has worked as a translator-interpreter with Elders, traditional knowledge keepers, and, wisely, she has learned to listen to their words. Joséphine Bacon often says of herself that she is not a poet, but that in her nomadic and generous heart, she speaks a language filled with poetry that resonates with the echoes of the Elders who have marked her life.