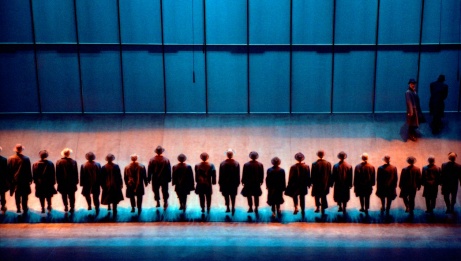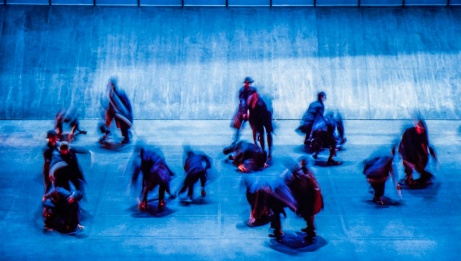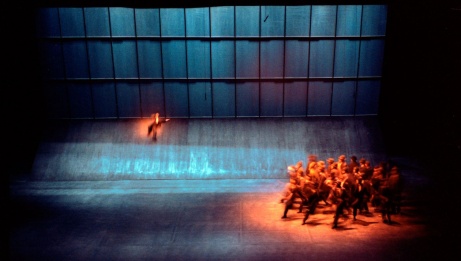 Francophone
Dance
Contemporary
Film
Video on-demand

Bilingual
NAC Dance invites you to relive Joe, the iconic contemporary Canadian dance piece by the late Jean-Pierre Perreault. This piece not only pays tribute to one of Canada's greatest choreographers, but also allows the public to discover or rediscover a breathtaking performance that has had a profound impact on contemporary dance.
A pivotal work, Joe presents an image of the human condition that is so accurate and so moving that it remains forever imprinted in the memories of those who have experienced it.
To the sound of 32 pairs of work boots obsessively pounding the floor, 32 dancers, dressed in long coats and hats, move in a compact mass from which individuals occasionally attempt to free themselves to escape a preordained destiny.
One of the most influential and respected contemporary dance artists in Canada, choreographer, painter and set designer Jean-Pierre Perreault (1947–2002) created works whose significant influence both at home and abroad has contributed to the growth of dance artists and audiences.
---
Detailed program
Pre-show (3 minutes)
Introduction of the work Joe. Produced by Filigrane Archives.
Film (54 minutes)
Webcast of a video recording of the piece Joe (premiered in 1984), produced in 1995 by Bernard Picard for Radio-Canada.
Post-show (15 minutes)
Documentary on Joe. Produced by Filigrane Archives.
Enjoy this archival video in its vintage resolution, which is already 26 years old. The technology may have aged a little, but Joe hasn't!
This Digidance webcast is an initiative of DanceHouse (Vancouver), Danse Danse (Montreal), Harbourfront Centre (Toronto) and the National Arts Centre (Ottawa) in collaboration with the Fondation Jean-Pierre Perreault. Thank you to Radio-Canada Archives.
Note: Once you have purchased your access to the film, the link to watch will be available from 12:01 AM (Eastern Standard Time) on March 17 to 11:45 PM (Eastern Standard Time) on March 23. You can view the film as many times as you wish with your link.
---
Consider donating to the National Arts Centre as it continues to support Canadian artists. Tickets have a $35 (Engaged) or $85 (Supporter) donation option. Thank you!
This digital presentation is approximately 70 minutes.
Menu