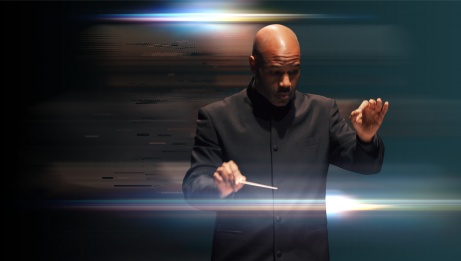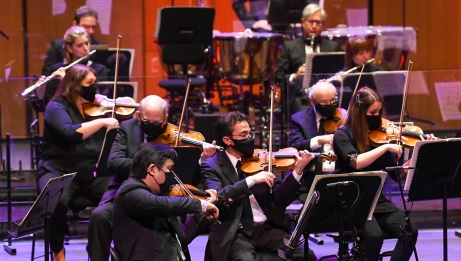 Errollyn Wallen Photography I.-- (4 mins)
JULIA PERRY A Short Piece for Orchestra (8 mins)
The House of Life: selections (18 mins)
DINUK WIJERATNE Polyphonic Lively
NAC Livestream

≈ 60 minutes · No intermission
The concert opens with the vivacious first movement of UK composer Errollyn Wallen's Photography (2007). Evoking an energetic dance, the sections of the string orchestra engage in the jubilant exchange of various motives throughout, while pulsating patterns propel the piece forward to its ecstatic conclusion.
A Short Piece for Orchestra (1952) is one of American composer Julia Perry's best known works. During her lifetime, it received acclaimed performances on both sides of the Atlantic (including in a re-orchestrated version entitled Study for Orchestra for the New York Philharmonic in 1965), and was also recorded in 1969. A Short Piece is in five sections. It opens raucously with a series of angular themes, the vigorous mood of which also returns in the middle. In between are two contrasting segments of more melancholy and haunting feeling, after which the piece wraps up with a bang.
In 1902, Ralph Vaughan Williams set six sonnets from the English poet Dante Gabriel Rossetti's immense collection of 101 such poems, for voice and piano. Entitled The House of Life, the resulting song cycle is considered to be among the finest examples of English art song composed at the beginning of the 20th century. You'll hear Joel Allison perform the first four of these songs, in an arrangement he created for voice and string orchestra. According to art historian Karen Yuen, Vaughan Williams was deliberate in not only his choice of poems but also in the order in which he placed them in his cycle, which do not follow Dante's numbering. She notes that while the poems, taken together, do not tell a story, each one could be regarded as a meditation on understanding the workings of love that builds on the previous song. Musically, the voice's line imbues the text with an introspective and deliberate quality, with moments, such as in "Love-sight" and "Silent Noon", when it frees itself through dramatic, declamatory passages. The accompaniment supports with exquisitely shifting harmonies and rich sonorities, and on occasion, evocative word painting, like in "Love's Minstrels".
Canadian composer Dinuk Wijeratne's Polyphonic Lively (2016) draws this concert to an exciting close. The title is the same as to a painting by the Swiss-German artist Paul Klee, which Wijeratne took as inspiration for the piece. As he has written, "I felt compelled to turn these very vivid and evocative words into music. They immediately conjured up high-vibration, high-intensity 'chatter'." The work is a kaleidoscope of orchestral timbres (much like the vibrant colours in a Klee painting), while being what Wijeratne describes as "character-driven—through sharp turns and decisive action, its 'journey' is simply what the characters make of it. Its musical fabric is a multiplicity of voices, lines, and themes that decide—on a whim—when to coalesce and coexist."