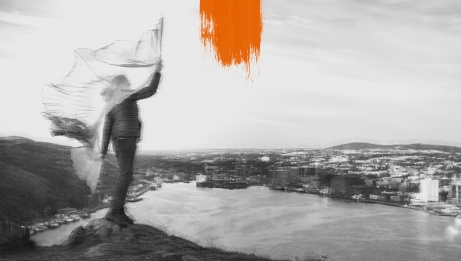 The Fire Kedgys' Howl is a mythological intervention depicting the arrival of a luminescent, otherworldly community.
The Kedgys' call us to pull up our sleeves, blow the horn, catch the ropes and right the ship's path to safer ground. A collective 'cry for help', this ethereal work evokes feelings of urgency and discovery. It provokes compassion and awakens us to the resilient nature inherent in all beings so we may do better in our current, conflicted world.
Kedgy, according to the Dictionary of Newfoundland English, is someone who does all the odd jobs on a boat - sound the fog horn, pull up the lines, etc. We thought this image was compelling to explore because this is someone we might not think of as a "rescuer of humanity" - and yet they do what needs to be done, to emerge out of the fog, out of danger, to catch the ropes and get everyone ashore safely.
Exact time and location of this event to be confirmed. Please check here for updates.
Please note performance time is indicated in Eastern Daylight Time (EDT). Please adjust for your local time zone.
---
As the performing arts sector continues to face unprecedented challenges due to the COVID-19 pandemic, the National Arts Centre has responded with Grand Acts of Theatre, an initiative to bring Canadian artists and audiences together. Eleven of Canada's most innovative theatre companies have been engaged to create and perform large-scale, new works in response to these times, which will be performed outdoors in front of live audiences in various Canadian locations, filmed, and later shared online.
This event will be photographed and recorded, with excerpts being presented online at a later date, so we are advising all attendees that by attending the event, individuals are deemed to consent to the recording of their image and use of their image in connection with recordings and photographs of the event, which may be published. All video recordings and images of the event captured by the organizers shall be the sole property of organizers and all rights of personality, publicity, privacy, or other rights of participants in recordings or photographs shall be deemed to have been waived.