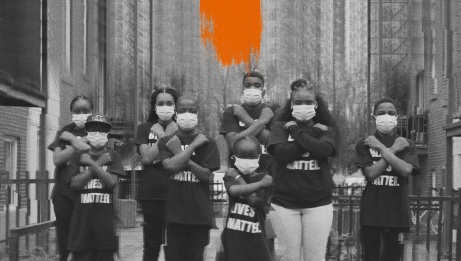 Black and Blue Matters - Track 1: No One Gives a F**k About a Cop is a rap battle between Sammir Frederique, a Black teenager who was shot nine times by a police officer, and David Harrison, the white police officer who shot him.
This installation performance is an excerpt from Black and Blue Matters, a satirical, interactive Hip Hop musical written by Omari Newton and directed by Diane Roberts, that deconstructs the justice system, truth, white supremacy, and the nature of post/neo-colonial trauma. It will premiere in 2021-22 at Black Theatre Workshop, currently celebrating its 50th anniversary season.
---
As the performing arts sector continues to face unprecedented challenges due to the COVID-19 pandemic, the National Arts Centre has responded with Grand Acts of Theatre, an initiative to bring Canadian artists and audiences together. Eleven of Canada's most innovative theatre companies have been engaged to create and perform large-scale, new works in response to these times, which will be performed outdoors in front of live audiences in various Canadian locations, filmed, and later shared online.
This event will be photographed and recorded, with excerpts being presented online at a later date, so we are advising all attendees that by attending the event, individuals are deemed to consent to the recording of their image and use of their image in connection with recordings and photographs of the event, which may be published. All video recordings and images of the event captured by the organizers shall be the sole property of organizers and all rights of personality, publicity, privacy, or other rights of participants in recordings or photographs shall be deemed to have been waived.