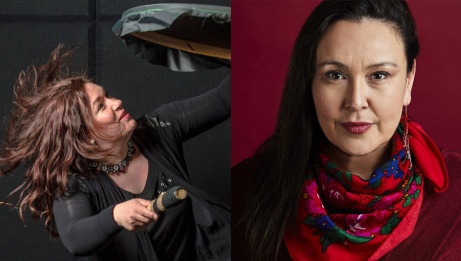 Indigenous arts
Music
Classical music
Every weekday, we will be showcasing the wonderful musicians of Canada's NAC Orchestra on YouTube. Enjoy!
We're celebrating National Indigenous Peoples Day by reuniting with Leela Gilday and Sylvia Cloutier for a throwback to a concert we performed with them in Iqaluit, Nunavut in 2017 as part of our northern tour.
A passionate singer-songwriter and soulful performer, Leela Gilday has a voice that comes straight from the heart. Confessing her stories to her audiences with a gutsy voice and open stage presence, Leela weaves her experiences as a Northerner, a member of the Dene nation and a traveller into a beautiful world that transports the listener.
Sylvia Cloutier, is originally from Kuujjuaq, Nunavik (Northern Quebec) but now living in Montreal, is well-known for performing Inuit throat-singing and drum dancing. She has collaborated with many artists all over the world and joined then-Governor General Michaëlle Jean on a state visit to Norway and Ukraine in 2009.
The song you are about to hear - We Fall - is taken from a set of four songs the two artists created that explores the theme of motherhood and is a reflection of the maternal energy in nature and the natural cycle of giving life, nurturing growth, love and letting go.
Enjoy your NACO Lunch Break and happy National Indigenous Peoples Day!
Marjolaine Lambert, violin
Frederic Moisan, violin
David Goldblatt, viola
Leah Wyber, cello
Colin Traquair, trombone
Kimball Sykes, clarinet
Kaili Maimets, flute
Orchestration: Christopher Mayo