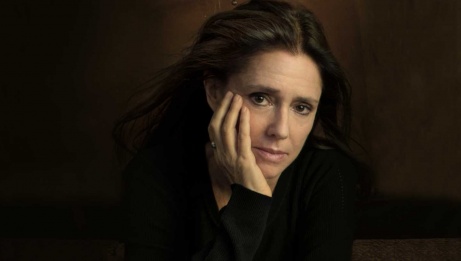 As the National Arts Centre celebrates its 50th Anniversary in 2019, and on the occasion of the publication of "Art and Politics: the History of the National Arts Centre" – second edition, by Sarah Jennings with McGill-Queens University Press, we have invited Tony®, Emmy®, and Grammy® winning and Oscar® nominated filmmaker Julie Taymor to share her thoughts on the performing arts in the age of technology and digital transformation. Julie will take part on an onstage one-on-one conversation with Craig Offman, Arts editor at The Globe and Mail.
Julie Taymor is a Director, Playwright and Costume Designer who has changed the face of Broadway with her innovative direction. Her Broadway adaptation of The Lion King debuted in 1997 and was an instant sensation, receiving 11 Tony Award nominations, with Julie receiving awards for Best Director and Costume Designer. The show has played over 100 cities in 19 countries, and its worldwide gross exceeds that of any entertainment title in box office history.
Now based in Toronto, Craig Offman is a winner of a National Newspaper Award and is a former staffer at Vanity Fair, Salon and Wired. His writing on culture and politics has appeared in GQ, The Financial Times and Time Magazine.
More about Julie Taymor's impressive career:
Her film credits include Fool's Fire, Oedipus Rex starring Jessye Norman which received an Emmy Award as well as the International Classical Music Award; Titus, starring Anthony Hopkins and Jessica Lange; Frida starring Salma Hayek which garnered six Academy Award nominations and won two; Across the Universe which received Golden Globe and Academy Award nominations, The Tempest, starring Helen Mirren, a cinematic version of William Shakespeare's A Midsummer Night's Dream, filmed during her critically acclaimed, sold-out stage production at Theatre for a New Audience in Brooklyn, and the soon to be released feature film of Gloria Steinem's My Life On The Road titled The Glorias, starring Julianne Moore, Alicia Vikander, and Bette Midler. Other theater credits include the play Grounded, starring Anne Hathaway, at the Public Theater as well as Broadway's M Butterfly starring Clive Owen, Spider-Man: Turn Off the Dark, The Green Bird, and Juan Darien: A Carnival Mass. Taymor is a recipient of the 1991 MacArthur "Genius" Fellowship, as well as a 2015 inductee into the Theater Hall of Fame for Lifetime Achievement in the American Theater, the recipient of the 2015 Shakespeare Theatre Company's William Shakespeare Award for Classical Theatre, and a 2017 Disney Legends Award honoree.