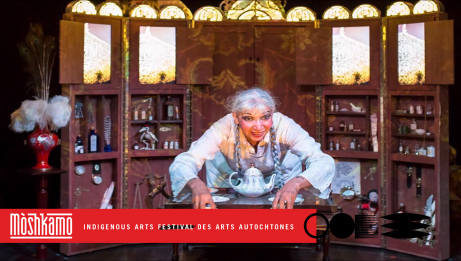 Indigenous arts
Theatre
Masterclass
Festival events
≈ 3 hours · No intermission
We are honoured to offer an introductory workshop in land-based, embodied Indigenous performance with the talented Monique Mojica. Participants will explore an embodied approach to storytelling by connecting the body to land and place. This process results in the generation of organic texts from deep within the body's memory. The workshop will include participatory "on your feet" group exercises in sourcing impulse, gesture, sound, movement, and strategies for collective creation. Comfortable attire required.
This masterclass will take place outdoors. Rain location is Atelier Shenkman Smith.
Monique Mojica (Guna and Rappahannock nations) Actor/ playwright is passionately dedicated to a theatrical practice as an act of healing, of reclaiming historical/ cultural memory and of resistance. Spun directly from the family-web of New York's Spiderwoman Theater, her theatrical practice embraces not only her artistic lineage through mining stories embeded in the body, but also the connection to stories coming through land and place.
This masterclass is part of the exciting all-Indigenous programming taking over the NAC's performance and public spaces September 11-29, 2019. This premiere Indigenous Arts Festival, Mòshkamo, celebrates the inaugural season of NAC's Indigenous Theatre and the resurgence of Indigenous Arts. Learn more at MoshkamoFestival.ca.