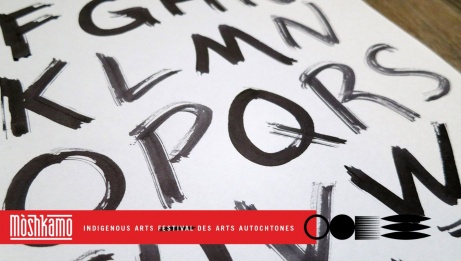 Indigenous arts
Workshops
Festival events
≈ 2 hours · No intermission
Learn how place and the land is reflected in ways of writing all over the world. Explore using different items from nature, inspired the Algonquin territory, to create beautiful letters and words. Leave with cards, posters, or just a new skill! Material provided.
A member of Kitigan Zibi First Nation, Mairi was born and raised in Ottawa. Having done her Bachelor of Design at Ryerson University in fashion and costume making; she was interested in applying her Indigenous culture to her design practice and continued to do this during her MA at Central Saint Martin's in London, England. With the aim of decolonizing research approaches and the design process, she brings traditional knowledge into academic and design spaces. She continues to bring Indigenous artists and students into the arts at the National Arts Centre as their Indigenous Cultural Resident.
The Art of Storytelling exists in many different cultural practices. We are hosting multidisciplinary artists who offer a range of artistic processes that we know will inspire creative ideas and form new relationships. Follow us on Facebook to find out more and join us during Mòshkamo: Indigenous Arts Rising.
This workshop is part of the exciting all-Indigenous programming taking over the NAC's performance and public spaces September 11-29, 2019. This premiere Indigenous Arts Festival, Mòshkamo, celebrates the inaugural season of NAC's Indigenous Theatre and the resurgence of Indigenous Arts. Learn more at MoshkamoFestival.ca.