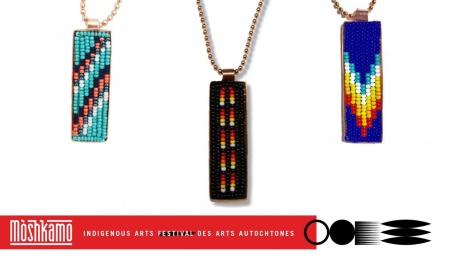 Indigenous arts
Workshops
Festival events
≈ 3 hours · No intermission
In this 3 hour Her Braids workshop we will talk about the need for clean water in First Nations communities and some of the realities First Nations face in Canada. Participants will learn how to bead their very own pendant. The pendants serve as an educational tool and "talking piece" to bring awareness about this important Canadian issue.
Her braids is committed to bringing awareness and helping to make clean drinking water in First Nations communities a reality, one pendant at a time. Sunshine Quem Tenasco is the founder of Her Braids and is Anishinabe from Kitigan Zibi Anishinabeg First Nation in Quebec. Kitigan Zibi has gone without clean drinking water for a total of 15 years.
The Art of Storytelling exists in many different cultural practices. We are hosting multidisciplinary artists who offer a range of artistic processes that we know will inspire creative ideas and form new relationships. Follow us on Facebook to find out more and join us during Mòshkamo: Indigenous Arts Rising.
This workshop is part of the exciting all-Indigenous programming taking over the NAC's performance and public spaces September 11-29, 2019. This premiere Indigenous Arts Festival, Mòshkamo, celebrates the inaugural season of NAC's Indigenous Theatre and the resurgence of Indigenous Arts. Learn more at MoshkamoFestival.ca.