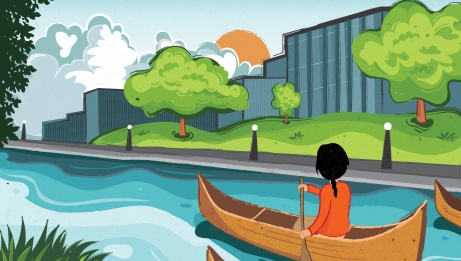 Special Events
Indigenous arts
Festival events
Bilingual

≈ 3 hours · No intermission
The official launch of Mòshkamo Indigenous Arts Festival takes place on Saturday, September 14th.* Journeying from Patterson Creek, traveling under the Corktown Bridge, paddling past the NAC and docking at the Sappers Bridge docks, an Algonquin-led flotilla that includes members of the local Indigenous Arts community and representatives from the NAC's new Indigenous Theatre department will take up paddles to usher in a new era at the NAC.
As part of this year's 50th anniversary, the NAC is set to celebrate another new beginning: Indigenous Theatre's first season. The first event of the season, Mòshkamo, centres the host Algonquin Anishinabeg Nation with a multi-National canoe voyage to 1 Elgin. Sixty Indigenous folks from across unceded and unsurrendered Algonquin territory will depart en masse down the historical waterway, claiming space for the NAC's first all-Indigenous festival.
The Grand Entry is part of the exciting all-Indigenous programming taking over the NAC's performance and public spaces September 11-29, 2019. This premiere Indigenous Arts Festival, Mòshkamo, celebrates the inaugural season of NAC's Indigenous Theatre and the resurgence of Indigenous Arts. Learn more about Mòshkamo, presented by Facebook Canada, at MoshkamoFestival.ca.
Wave to the procession from the canal pathways and bridges or be at the NAC to witness a ceremonial greeting from Algonquin Elders. Join in the grand processional of paddlers and Elders as we walk into the Canal Lobby for words of welcome. Following the ceremony, everyone is invited to the Canada Room for a community feast prepared in partnership between the NAC's Executive Chef, Kenton Leier, and NAC Resident Chef Rich Francis of Six Nations and Seventh Fire Hospitality Group.
10:00 AM - View the canoe procession along the Rideau Canal. Canoes will travel from Patterson Creek to the National Arts Centre.
11:00 AM - Arrival of canoes and greeting by Algonquin Elders, followed by procession into the NAC.
11:30 AM - Welcome Ceremony in National Arts Centre Canal Foyer.
12:15 PM - Welcoming Feast at the National Arts Centre.
Attend online or in person.
* In the event of inclement weather, the canoe portion of the Grand Entry will be canceled.