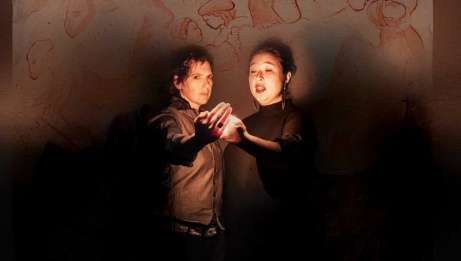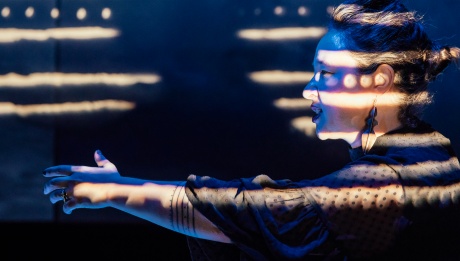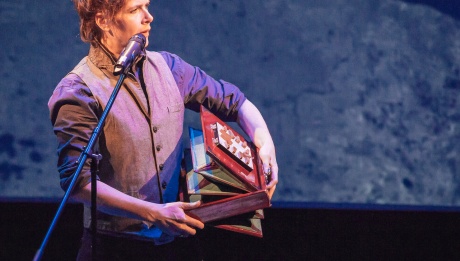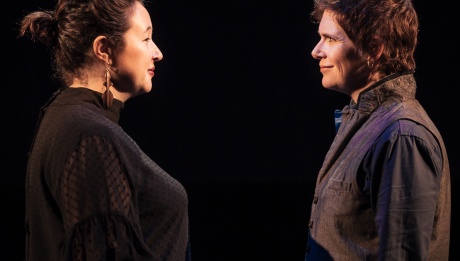 Indigenous arts
Music
Theatre
Storytelling
≈ 110 minutes · No intermission
Mature themes
Sexual content
At once strangely complex and astonishingly simple, Kiinalik: These Sharp Tools is a concert and conversation between two people: both women, storytellers, and artists.
Queer theatre-maker Evalyn Parry and Inuk artist Laakkuluk Williamson Bathory met on an Arctic expedition from Iqaluit to Greenland, setting out with very different ideas of what dreams the expedition might fulfil. One was realizing her father's wish to see the far North, the other was navigating the routes of her ancestors.
Embodying the stories of their heritage, Evalyn and Laakkuluk put a face to the colonial histories, power structures and the changing climate that lie between them.
---
ᑮᓇᓕᒃ; ᐃᐱᑦᑐᑦ ᓴᓇᕐᕈᑏᑦ
ᑮᓇᓕᒃ: ᐃᐱᑦᑐᑦ ᓴᓇᕐᕈᑏᑦ, ᑯᐃᐅ ᑕᐅᑐᕋᓐᓇᑕᐅᓂᕐᒧᑦ ᓴᓇᔨ ᐃᐊᕙᓕᓐ ᐸᐅᕆ ᐊᒻᒪᓗ ᐃᓄᒃ ᑕᐅᑐᕋᓐᓈᖅᑕᐅᓱᖅ ᓚᑯᓗᒃ ᐅᐃᓕᐊᒻᓴᓐ ᐹᑐᕆ ᓄᓇᖑᐊᓕᐅᖅᐳᒃ ᓄᑖᒥᒃ ᑕᐅᑐᕋᓐᓈᖅᑕᐅᓂᒃᒧᑦ ᐱᐅᔪᒥᒃ ᓴᓇᖃᑎᒌᑉᐳᒃ ᓴᓚᔅᓴᖅᓯᒪᔪᖅ ᐃᓕᓴᕆᔭᐅᓪᓗᓂ ᐱᓕᕆᐊᖓ ᓴᖅᑭᑎᑦᑎᓪᓗᓂ ᐃᓄᐃᑦ ᐃᓕᖅᑯᓯᖓᓂᒃ ᓄᖑᑎᑕᐅᓚᐅᖅᓯᒪᓂᖓᓂᒃ ᑭᖑᓂᑦᑎᓐᓂ, ᐱᔪᓐᓇᕐᓂᖃᕐᕕᐅᔪᓂᒃ ᐊᐅᓚᑦᑎᒍᓯᖏᓐᓂᒃ ᐊᒻᒪᓗ ᓯᓚᐅ ᐊᓯᔾᔨᐸᓪᓕᐊᓂᖓᓂᒃ ᐊᑯᓐᓂᖃᖅᑐᑎᒃ.
Inuktitut translation
---
READ MORE: All Our Relations – Directors' Chat with Eric Coates, Kevin Loring, Lori Marchand and Hugh Neilson