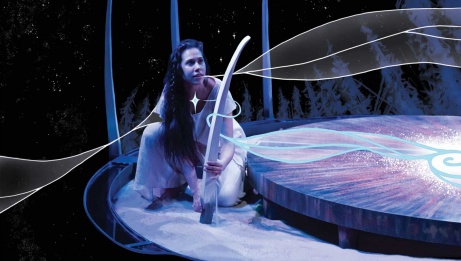 Indigenous arts
Theatre
Dance
Festival events
≈ 1 hour · No intermission
Finding Wolastoq Voice is a powerful debut work from Indigenous artist-turned-playwright Samaqani Cocahq (Natalie Sappier) of Tobique First Nation, a leading voice in New Brunswick's thriving Indigenous art scene.
Featuring the evocative choreography of dancer Aria Evans, this beautiful dance-theatre hybrid is the deeply personal coming-of-age story of a young Wolastoqiyik woman who is awakened by the voices of her ancestors. Evans draws on her experiences as a woman of mixed race (Mi'kmaq/Black/British) to beautifully convey feelings of sorrow, grace, and hope.
Andy Moro has created an organic, natural world that shifts and moves seamlessly, providing the foundation for this inspiring work.
---
Yut keti nomihtuweq amalhapomkahtimok sakihtaksik kisihtahatok Wolastoqi amalhocossawet naka tokec nutatkuhket Samaqani Cocahq (Natalie Sappier), Neqotkukew. 'Takonutomon weckuwikitpon 'cimaciw amsqahs pilsqehsisuwit naka letisuwit tokiw tuhkimit nikanapasihticik 'kansuhs.
Wolastoqey translation