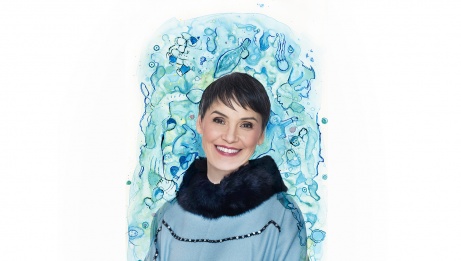 Indigenous arts
Music
Classical music
Vocal
Storytelling
Festival events
≈ 2 hours · With intermission
Susan Aglukark
Join JUNO Award-winning Inuk recording artist Susan Aglukark and friends for this epic musical journey, and discover the vibrant and beautiful culture of the North through storytelling, throat singing and more. In a career spanning more than 25 years, Aglukark has rightly earned an international reputation as one of Canada's most engaging and admired performers.
This concert is part of our Sessions series and is presented in collaboration with NAC Indigenous Theatre, the NAC Orchestra, and NAC Presents.
Riit
Riit, from majestic Panniqtuq, Nunavut, is a new artist making space for herself in the electropop world with Inuktitut lyrics and deep rhythmic vocals layered over gemological synth cuts and sticky, staticky electronic textures.
---
ᑐᓴᖅᓈᕆᐊᖅᑐᕆᑦ ᐅᑭᐅᖅᑕᖅᑐᕐᒥᑦ ᓂᐱᒋᔭᐅᓱᖅᑐᓂᒃ ᑕᐅᑐᒋᐊᖅᑐᕐᓗᑎᖅ ᔫᓅ Juno-ᒥᒃ ᓵᓚᒃᓴᖅᓯᒪᔪᖅ ᐊᕐᕕᐊᕐᒥᐅᑕᖅ ᓲᓴᓐ ᐊᒡᓘᒃᑲᖅ ᐃᒻᖏᖅᑎᑦᓯᓂᐊᖅᒪᑦ, ᐅᓂᑉᑳᖅᑐᐊᖅᑕᕐᓗᓂᓗ ᐊᒻᒪ ᕿᐊᖅᐹᖅᑎᑦᓯᑕᒻᒫᕐᓗᓂ. ᑖᑉᑯᓂᖓᑦ ᐱᑎᑦᓯᔪᑦ ᑲᓇᑕᒥ ᑕᐅᑐᕋᓐᓈᖅᑎᑦᓯᕕᕐᔪᐊᒃᑯᑦ ᓄᓇᖃᖅᑳᖅᑐᓂᒃ ᑕᐅᑐᕋᓐᓈᖅᑎᑦᓯᔨᑦ NAC Indigenous, ᐊᒋᐊᕋᐅᔭᖅᑎᑦ NAC Orchestra ᐊᒻᒪ ᑕᐅᑐᕋᓐᓈᖅᑕᐅᔪᒃᓴᓕᕆᔨᑦ NAC Presents.