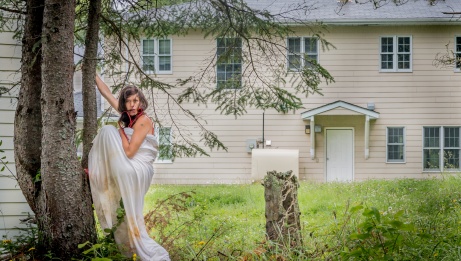 Dance
Cross-disciplinary
Visual Arts
The exhibit Phantom Stills & Vibrations is part of the NAC Dance Face 2 Face series (Feb 21-23) which features three indigenous contemporary creators: Lara Kramer, Jacob Boehme (ILBIJERRI Theatre Company) and Victoria Hunt.
Exhibit Hours
Wednesday, February 20: 5-9 p.m.
Thursday, February 21: 12-9 p.m.
Friday, February 22: 12-9 p.m.
Saturday, February 23: 10-8 p.m.
30-minute performance by Lara Kramer
Wednesday, February 20: 5:30 p.m.
Saturday, February 23: 3 p.m.
About the exhibit
Places and bodies – broken, betrayed, defiled. Secret, hidden stories gush to the surface in Phantom Stills & Vibrations, an immersive experience that looks to the former Pelican Falls Indian residential school in Sioux Lookout in northwestern Ontario where three generations of her family were forced to attend. A cultural genocide that continues, that leaves traces and open wounds. Inspired by visits to the land of her ancestors, choreographer Lara Kramer has crafted a performance art exhibit in collaboration with Stefan Petersen, a reminder of the repercussions of the traumas passed on from generation to generation.
A photograph of the former residential school (now a high school) and a soundscape of the north underpin a minimalist performance. Kramer portrays the excruciating reality of abused children and questions the possibility of moving forward. How can there be a rebuilding when violence is perpetuated? The exhibit stirs, disturbs, leads to reflection and meditation. A work of essential, powerful remembrance.