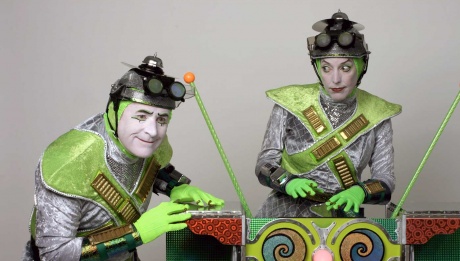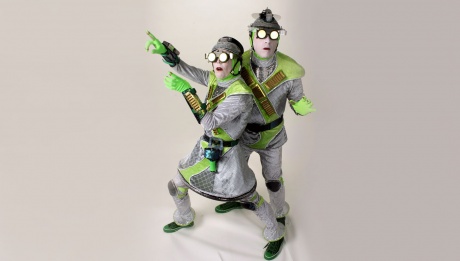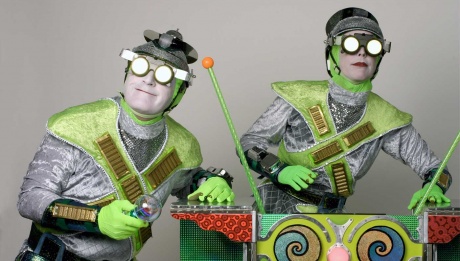 Family programming
Music
Classical music
≈ 1 hour · No intermission
Lively bilingual one-hour performances, it's always hands-on and fun!
Enjoy an afternoon exploring the wonders of music with a variety of entertaining performances and pre-show activities to choose from. More than just a concert it's an interactive musical experience featuring the NAC Orchestra and amazing guest artists. Guaranteed to thrill music lovers!
Recommended for ages 5 to 105!
An unwitting conductor only wants to trace the influences of the New World on European orchestral tradition when two aliens descend on Southam Hall with ideas of their own! With ideas and inventions for influencing "Earth Music" these mischievous extra terrestrials turn what should have been a straight forward orchestra program into a sci-fi musical thriller.
CONCERT PROGRAM (Subject to change)
MILLER Overture to Planet X
MERCURE Kaleidoscope (excerpt)
COPLAND Appalachian Spring: Variations on a Shaker Hymn
COPLAND Rodeo: Hoe-Down
GOTTSCHALK A Night in the Tropics: II. Festa Criolla
GOULD American Symphonette No. 2
ANDERSON The Typewriter
WILLIAMS E.T.: The Extra-Terrestrial: Flying Theme
---
TUNETOWN Pre-concert Activities
Arrive 45 minutes early to participate in hands-on pre-concert activities courtesy of the Friends of NAC Orchestra in the NAC Main lobbies. More than a concert, it's an interactive musical experience guaranteed to thrill music lovers of all ages! This special edition of pre-concert activities will include:
CANAL LOBBY STAGE: Discover more about space, music, and mime at the Ottawa Public Library's reading corner.
ORCHESTRA LEVEL: Try out some of the brass instruments that will be featured on stage with students from Hillcrest High School.
ORCHESTRA LEVEL: Sharpen your eyes at the kaleidoscope and bug-eye corner!
MEZZANINE LEVEL: Participate in interactive musical activities with Music for Young Children!
MEZZANINE LEVEL: Try out some of the woodwind instruments that will be featured on stage with students from École secondaire publique De La Salle.
AMPHITHEATRE LEVEL: Create your own space-themed pencil topper!
ALL SOUTHAM LOBBIES: Try your mime skills with Canterbury High School students!
ATELIER BELLE SHENKMAN & DESMOND SMITH: Catch your own "star in a galaxy" sensory-bin and make an "out-of-this-world" craft with the Lotus Centre for Special Music Education (SATURDAY ONLY)
And much more!
---
NACOtron presented in collaboration with Rogers TV
Rogers TV is very pleased to present NACOtron, in partnership with the National Arts Centre Orchestra. We hope you enjoy the giant images on the NACOtron screen as they capture and magnify the magic of these fabulous concerts.
---
National Youth and Education Trust
This program is made possible in part by the NAC's National Youth and Education Trust. The Trust is supported by supporters and patrons of the annual NAC Gala and the donors of the NAC Foundation Corporate Circle and Donors' Circle.