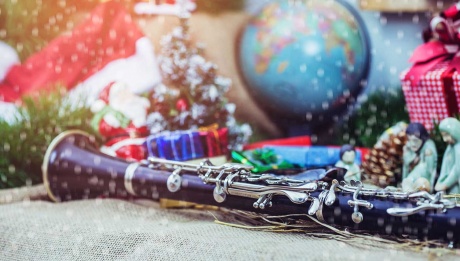 Family programming
Music
Classical music
Holidays
≈ 1 hour · No intermission
From Russia to Australia, with stops in China, India, France, Ukraine, England, and, to be sure, Canada, get into the holiday spirit on a trip fueled by traditional music from around the world.
CONCERT PROGRAM: (subject to change)
JUTRAS - Suite folklorique
BIZET - L'Arlésienne Suite No. 2, IV. Farandole
VAUGHAN-WILLIAMS - Greensleeves
Arr. TRUDEL - Kozaky
NEWBOLD - Dragon Dances
GRUSELLE - Postcards from Russia
Arr. TRUDEL - Ragas
ABREU (Arr. Trudel) - Tico-Tico
ANDERSON - A Christmas Festival
ANDERSON - Sleigh Ride
PIERPONT (Att. Huggett) - Jingle Bells
TUNETOWN PRE-CONCERT ACTIVITIES
Arrive 45 minutes early to participate in hands-on TUNETOWN pre-concert activities organized by the Friends of NAC Orchestra in the NAC main lobbies. More than a concert, it's an interactive musical experience guaranteed to thrill music lovers of all ages! This special "Holiday Traditions Around The World" edition of pre-concert activities will include:
- Get moving with the Corazon Dance Troop and learn fusion belly dancing!
- Join students from Canterbury High School in trying out some of the woodwind instruments that will be featured on stage!
- Discover more about the fascinating holiday traditions around the world at the Ottawa Public Library's reading corner.
- Create your own Chinese lantern in celebration of Chinese New Year!
- Where the Season Meets the Selfie! Take a selfie on the NAC's indoor skating rink - No skates required!
- Learn to play a holiday tune on a set of handbells with the Kiwanis Music Festival.
- Learn to read a few music notes with Music for Young Children.
- ON SATURDAY DECEMBER 8th ONLY: Enjoy a Holiday-themed craft and a sensory activity with Lotus Centre for Special Music Education in the NAC Atelier Belle Shenkman & Desmond Smith.
- ON SUNDAY DECEMBER 9th ONLY, FROM 10AM to 5PM: Join us in National Arts Centre's Atrium for the merriest craft market around! Expect a fantastic array of maker goods, crafts, uniquely designed goods, and much more. DJ's and entertainment all day! Details: nac-cna.ca/en/event/20456
NACOtron presented in collaboration with Rogers TV
Rogers TV is very pleased to present NACOtron, in partnership with the National Arts Centre Orchestra. We hope you enjoy the giant images on the NACOtron screen as they capture and magnify the magic of these fabulous concerts.
NATIONAL YOUTH AND EDUCATION TRUST
This program is made possible in part by the NAC's National Youth and Education Trust. The Trust is supported by supporters and patrons of the annual NAC Gala and the donors of the NAC Foundation Corporate Circle and Donors' Circle.