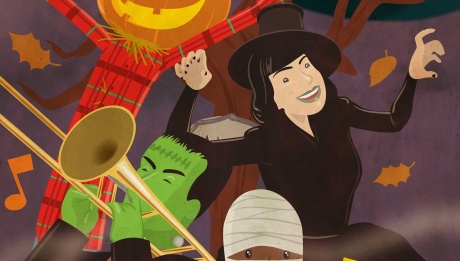 Family programming
Music
Classical music
≈ 1 hour · No intermission
Lively bilingual one-hour performances featuring the NAC Orchestra.
Get ready for scream-worthy fun when Samara the Witch and dancers bring to life orchestral favourites like The Sorcerer's Apprentice in a performance that will put you in high gear for Halloween.
Dress up with the NAC Orchestra for this Halloween concert!
CONCERT PROGRAM (Subject to change)
HUMPERDINCK Hansel and Gretel: The Witch's Dance
MUSSORGSKY A Night on the Bald Mountain
SAINT-SAËNS Danse macabre
MUSSORGSKY Pictures at an Exhibition: The Hut on Fowl's Legs, "Baba Yaga"
DUKAS The Sorcerer's Apprentice
GRIEG Peer Gynt Suite No. 1, Op. 46: IV. In the Hall of the Mountain King
WILLIAMS Harry Potter and the Philosopher's Stone: Harry's Wondrous World
TUNETOWN PRE-CONCERT ACTIVITIES
Arrive 45 minutes early to participate in hands-on TUNETOWN pre-concert activities organized by the Friends of NAC Orchestra in the NAC's Southam Hall lobby. More than a concert it's an interactive musical experience guaranteed to thrill music lovers of all ages! This special Halloween edition of pre-concert activities will include:
and much more!
NACOtron presented in collaboration with Rogers TV
Rogers TV is very pleased to present NACOtron, in partnership with the National Arts Centre Orchestra. We hope you enjoy the giant images on the NACOtron screen as they capture and magnify the magic of these fabulous concerts.
NATIONAL YOUTH AND EDUCATION TRUST
This program is made possible in part by the NAC's National Youth and Education Trust. The Trust is supported by supporters and patrons of the annual NAC Gala and the donors of the NAC Foundation Corporate Circle and Donors' Circle.