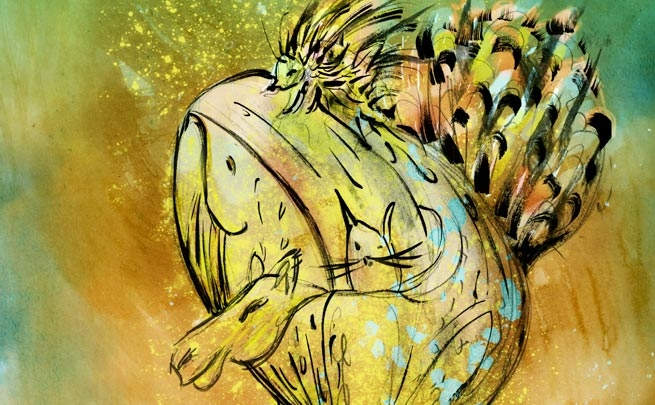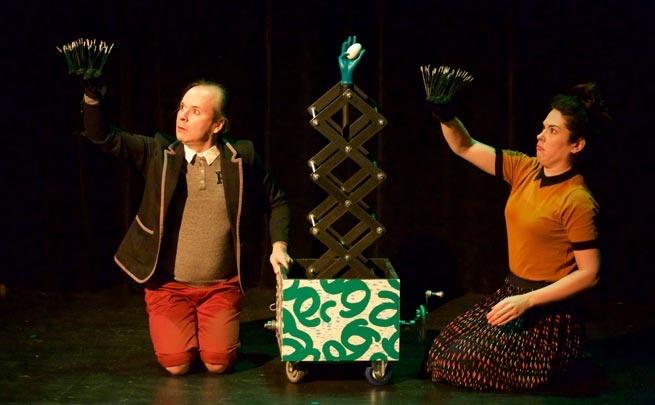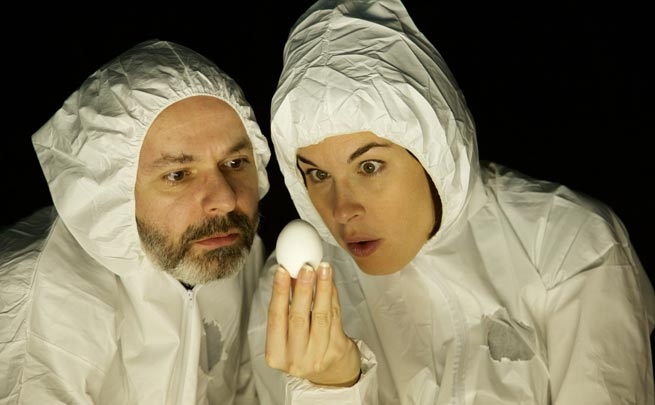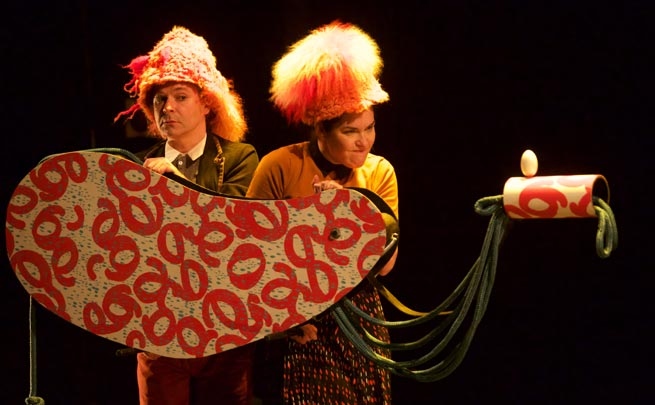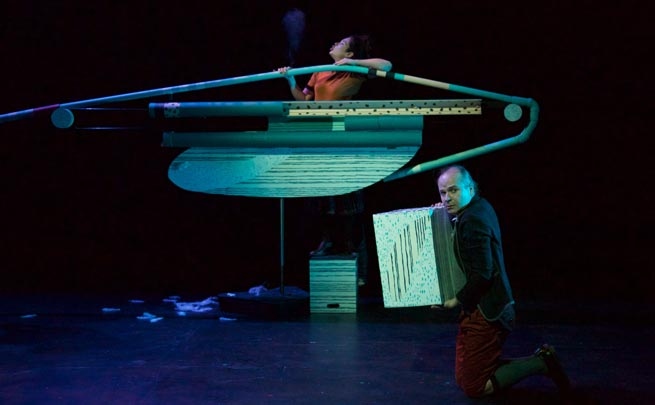 Performance is approximately 40 minutes with no intermission.
EGG ON THE LOOSE !
An egg. Fallen from the nest. She and He will find the most absurd and complicated way to put it back: they'll have to invent some kind of machine. But what kind of egg is it? Hard to say: it's making strange noises, and it keeps changing shape and colour. As the story unfolds, we meet some unusual creatures: a depressed turkey, two gentlemen porcupines, and even a whale that lives on land! A joyous imaginary bestiary dreamed up by three ingenious authors.
What kind of egg is it again?
An egg of endless possibilities, that's for sure.
We don't have mascot outfits, we don't have illustrations either, like the ones in children's picture books. Conjuring up a parade of animals without using technological devices or video was quite a challenge.

Érika Tremblay‑Roy
Press clipping

Available only in French
The Secret of the Egg

Interview with Érika Tremblay-Roy

What's it like to write a six-hander? What are the challenges and benefits?

It's inspiring! It's a little like gathering photographs, found objects, drawings, natural elements … all kinds of things that seem unrelated at first, but can be used to make associations and create a cohesive tableau. We started by writing short texts, very instinctively, individually. I then built a sort of "skeleton" of the show by piecing David's little stories together with Marie-Hélène's and mine, being careful to preserve their colours and textures. Then the three of us tackled the challenge of wrestling this unwieldy word-beast into a shape we were all happy with!
With

Ludger Côté and Emmanuelle Laroche
Learn More:
| Mon | Tue | Wed | Thu | Fri | Sat | Sun |
| --- | --- | --- | --- | --- | --- | --- |
| | | | | | | |
Visual concept: Isabelle Caron
Lighting and stage management: Andréanne Deschênes
Music: Yann Godbout
Artistic consultant: Karine Sauvé
Technical direction: Simon Vincent

Produced by Le Petit Théâtre de Sherbrooke