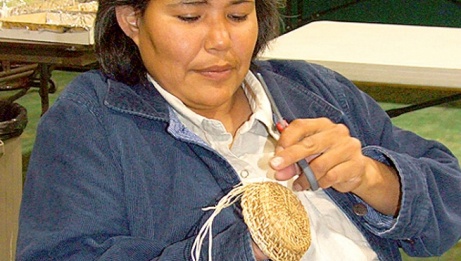 Workshop length: 4 hours | Ages 13+
Max. 15 participants | $75 fee includes materials

In this workshop, Phoebe Punch will teach you how to make your own basket with bark and roots she has collected herself in the forests around her home in Fort Simpson, NWT.
For many centuries, Dene women have made these beautiful and functional birch bark baskets for carrying food, water, and other supplies. Skilfully handcrafted, each basket is unique, designed and decorated according to the maker's individual vision and creativity.
Phoebe is passionate about sharing her knowledge with a new generation of crafters. Learning at her mother Julie's side, she has developed her skills over 20 years, fine-tuning her abilities by attending and leading many workshops. Phoebe is proud to keep this traditional craft alive.
Spend the day learning with Phoebe and take home your own one-of-a-kind basket at the end of the workshop.