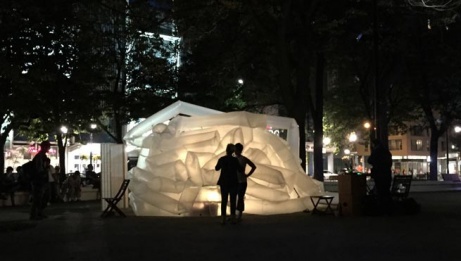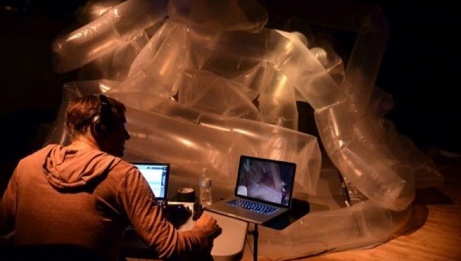 Dance
Contemporary
Visual Arts
"It's almost as if they take you on a journey that feels like an out-of-body experience." Participant
Aurelie Pedron's ENTRE is an intimate installation/performance experienced by one participant at a time. Inside a cocoon-like sculptural space, you are fitted with blindfold and headphones and drawn into a safe but unfamiliar atmosphere, relinquishing control and abandoning yourself to movement, sound, and the artist's touch. Sometimes surprising and unsettling, but always captivating, ENTRE transports you into an otherworldly state in a gentle, 10-minute journey that is different for everyone, every time.
Montreal's Aurélie Pedron founded Lilith & Cie in 2013 to research, create, and present works that embrace many artistic forms, from choreography to the visual arts to cinema. An artist through and through, she also works with disadvantaged youth and is deeply committed to social issues. Her work has been presented at the Festival de Théâtre de rue in Lachine, Tangente, and Studio 303, and has been screened internationally.
Space is limited to 20 participants on the day of each performance. Please sign up on your preferred day with an ENTRE attendant at the installation.
July 13th: 4:30 PM to 7:30 PM and 8:30 PM to 10:30 PM
July 14th: 5:30 PM to 7:30 PM and 9:00 PM to 12:00 AM
July 15th: 11:30 AM to 1:30 PM and 4:30 PM to 7:30 PM
Presented by the NAC's Canada Scene in collaboration with the Canada Dance Festival.