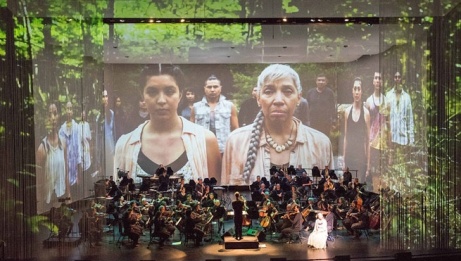 Music
Classical music
New works
≈ 80 minutes · No intermission
"Canada's rich and dynamic history has provided the setting for some of the most captivating, personal and yet universal stories I have heard. What better way to share these stories than through the collaborative voices of some of the best artists and creators Canada has to offer." - Alexander Shelley

Four Canadian composers created compelling musi­cal portraits of four exceptional Canadian women. Roberta Bondar, Rita Joe, Alice Munro, and Amanda Todd are the inspiration behind Life Reflected, a unique sym­phonic and multi-media celebration of youth, promise, and courage. The National Arts Centre Orchestra com­missioned four works by Zosha Di Castri, Jocelyn Morlock, Nicole Lizée, and John Estacio to create its largest pro­duction ever. The staging includes stunning projections, which immerse the audience in sound, motion picture, photography, and graphic design.
Dear Life, based on the short story by Alice Munro is a reflection on memory, childhood and the formative stages of life.
My Name is Amanda Todd tells the story of a vibrant 15-year-old who, after suffering for years from cyber abuse, spoke out against harassment and bullying on YouTube.
Dr. Roberta Bondar's expertise as an astronaut, physi­cian, scientific researcher, and photographer have been interpreted in Bondarsphere.
I Lost My Talk, based on the poem by Mi'kmaw elder and poet Rita Joe, expresses Joe's experience at Schubenacadie Residential School and is accompanied by a film by Barbara Willis Sweete, featuring choreography by Tekaronhiáhkhwa San­tee Smith performed on the shores of Georgian Bay.
Under the artistic direction of Alexander Shelley, with Creative Pro­ducer and Director Donna Feore, and Visual and Stage Design by Normal, Life Reflected comes to Toronto for one night only following a sold out premiere performance in Ottawa in 2016.

A National Arts Centre Orchestra production presented by the NAC and Luminato
*Commissioned for the National Arts Centre Orchestra to commemorate the 75th birthday of The Right Honourable Joe Clark, P.C., C.C., A.O.E. by his family.
---
NAC Orchestra Tour Patrons – Life Reflected at Luminato:
Janice & Earle O'Born
Supported by Joan and Jerry Lozinski