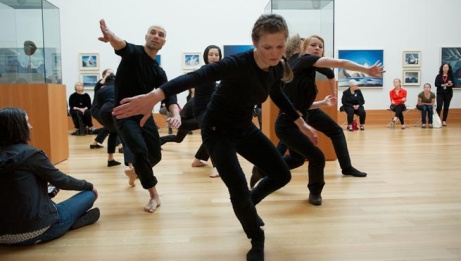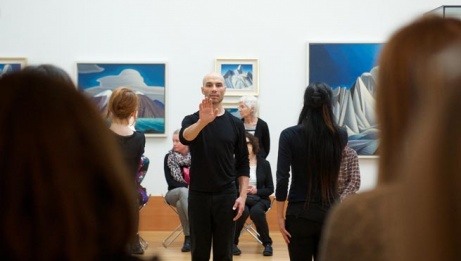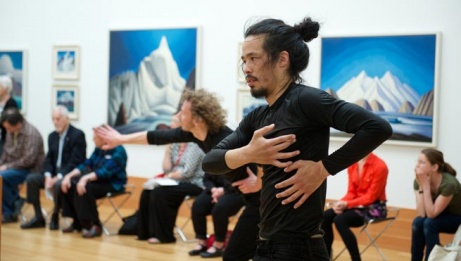 Dance
Contemporary
Visual Arts
"Performance events in galleries offer the audience a candid view of the performer as a human being, and their extraordinary capacity as a work of art." Peggy Baker
Peggy Baker's land|body|breath is a site-specific, immersive performance work situated in the National Gallery of Canada's Contemporary Canadian Galleries, performed by vocalists Fides Krucker and Ciara Adams and dancers Nicole Rose Bond, Sarah Fregeau, Sahara Morimoto, Andrea Nann, David Norsworthy, Jessica Runge, Mateo Galindo Torres, and William Yong. The dancers are encountered in individual galleries before they join forces in a central space, and the voices of all 10 performers ring through the network of galleries creating a rich soundscape of melodies, text, and sonic textures. The audience, fluid and mobile, travels through the galleries, crafting their own highly personal experience of the performance.
Originally from Alberta, Peggy Baker is one of the most influential contemporary dancers of her generation and the recipient of multiple awards, including the Governor General's Award for Lifetime Achievement, the Order of Canada, five Dora Mavor Moore awards, and NOW magazine's 2014 and 2015 Reader's Choice Award for Best Choreographer. She established Peggy Baker Dance Projects in Toronto in 1990, and has won rapturous praise for the eloquence and depth of her dancing.
A conversation with Peggy Baker
Both performances will be followed by a conversation in the space with Peggy Baker and Rhiannon Vogl, Associate Curator, Contemporary Art, National Gallery of Canada. As co-curator of Canadian and Indigenous Art: 1968 to Present, Vogl will discuss with Peggy Baker the relationship between visual art and dance as it pertains to bodily engagement, inspiration, and the translation of emotion into physical forms of expression.
Presented by the Canada Dance Festival in association with the NAC's Canada Scene and the National Gallery of Canada.