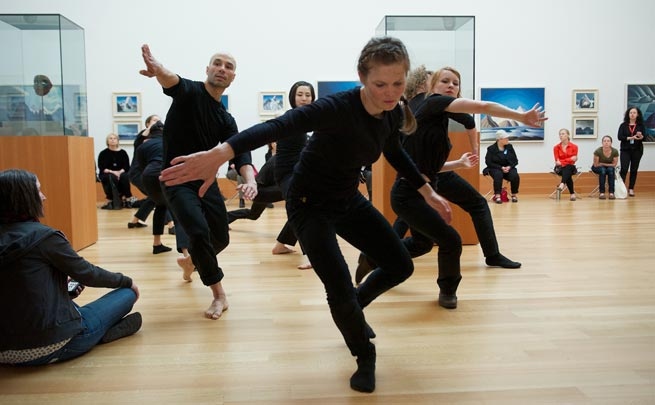 Sean Ling, Sahara Morimoto, Kate Holden, Sarah Fregeau in land|body|breath
Photo: Makoto Hirata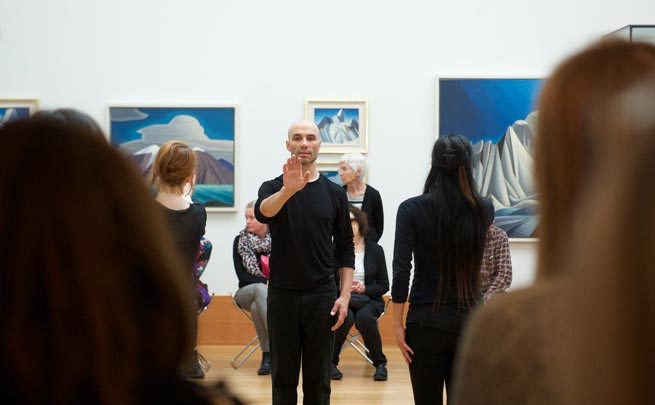 Sean Ling in land|body|breath
Photo: Makoto Hirata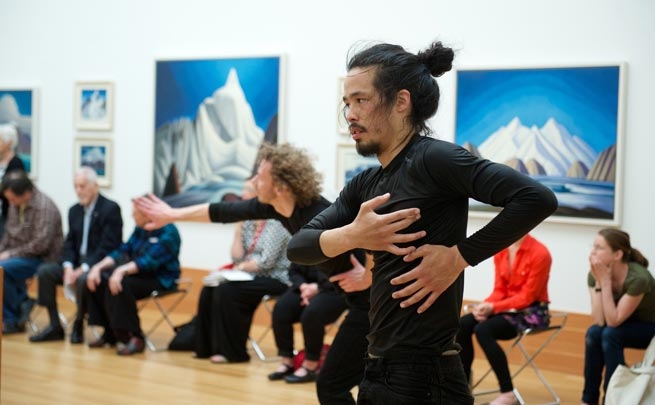 Ric Brown and Benjamin Kamino in land|body|breath
Photo: Makoto Hirata
land|body|breath is a site-specific, immersive performance for vocalists and dancers. The work features Peggy Baker's captivating choreography, performed inside the National Gallery of Canada's newly installed Canadian and Indigenous Galleries. In partnership with the dancers, live vocalists loop improvised sounds with folk songs, throat singing, and iconic Canadian pop, their voices reverberating among bodies and sculptures of stone, bone, shell, and wood. The audience, fluid and mobile, travels through the galleries, crafting their own highly personal experience of the performance.
Originally from Alberta, Peggy Baker is one of the most influential contemporary dancers of her generation and the recipient of multiple awards, including the Governor General's Award for Lifetime Achievement, the Order of Canada, five Dora Mavor Moore awards, and NOW magazine's 2014 and 2015 Reader's Choice Award for Best Choreographer. She established Peggy Baker Dance Projects in Toronto in 1990, and has won rapturous praise for the eloquence and depth of her dancing.
Presented by the Canada Dance Festival in association with the NAC's Canada Scene and the National Gallery of Canada.
"Performance events in galleries offer the audience a candid view of the performer as a human being, and their extraordinary capacity as a work of art."

Peggy Baker
| Mon | Tue | Wed | Thu | Fri | Sat | Sun |
| --- | --- | --- | --- | --- | --- | --- |
| | | | | | | |