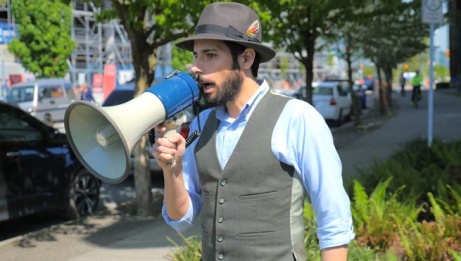 Vancouver-based social practice artist Carmen Papalia is undertaking a cross-country, movement-building campaign to challenge the prevailing paradigm for accessibility. Papalia's ideas are grounded in his own experiences of access as a non-visual learner and in the inflexible institutional support services that routinely disempower the people they are intended to serve.
On June 26, Papalia presents White Cane Amplified, an improvised performance in which the artist replaces his white mobility cane with a megaphone to navigate an unfamiliar route in downtown Ottawa in an effort to reclaim a sense of agency and distance himself from institutional support services. The work assumes a collaborative and performative function when he calls out to passersby, "Is there anyone out there who can help me?"
Papalia has shown White Cane Amplified as part of exhibitions in New York, Dublin, Chicago, San Diego, Toronto, and Vancouver.
Presented in partnership with the Ottawa Art Gallery.