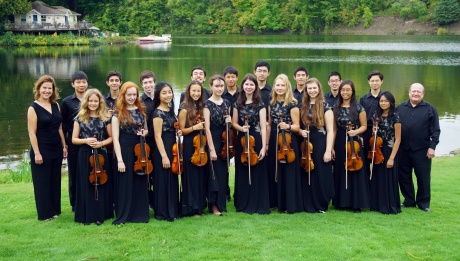 Stellae Boreales is the premiere violin ensemble from Ottawa Suzuki Strings music school, a non-profit organization based in Ottawa, ON. This year's ensemble is comprised of 21 very talented and dedicated young violinists between the ages of 12 and 17. Stellae Boreales has many performances in Ottawa with an emphasis on community outreach along with yearly national and international touring. The cultural and educational exchange offered by the touring program allows these young talented musicians to have a greater understanding of the interconnected world we live in and an appreciation of the richness of diversity.
Stellae Boreales will be touring to Buenos Aires, Argentina March 9 – 18, 2017, performing a program inspired by song and dance, and bringing a touch of Canada to South America in this significant 150th anniversary year of Canada. In a desire to reach out to as wide a community as possible in Buenos Aires, concerts have been organized in collaboration with community partners at the following venues: a church in Villa Carcova, one of the poorest and most vulnerable areas in Argentina; Northlands International Baccalaureate School with the Argentine and Canadian students performing alongside each other; Museo de Arte Hispanoamericano Isaac Fernández Blanco; and Salón Dorado in the renowned and prestigious Teatro Colón.
Stellae Boreales is thrilled to be including a piece by French Canadian composer Maxime Goulet. The National Arts Centre has made this possible by commissioning Maxime to arrange his composition Chocolat noir, a habanera, for Stellae Boreales.