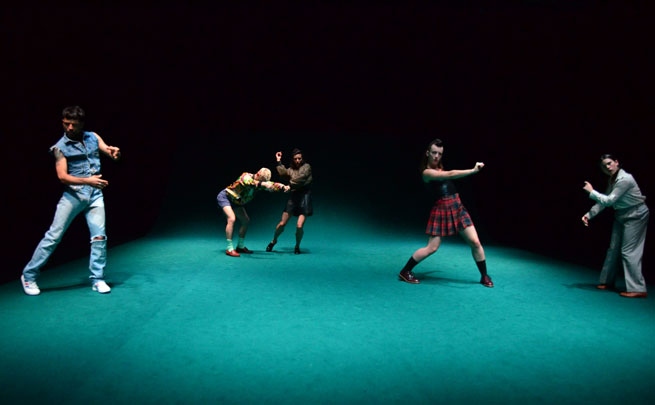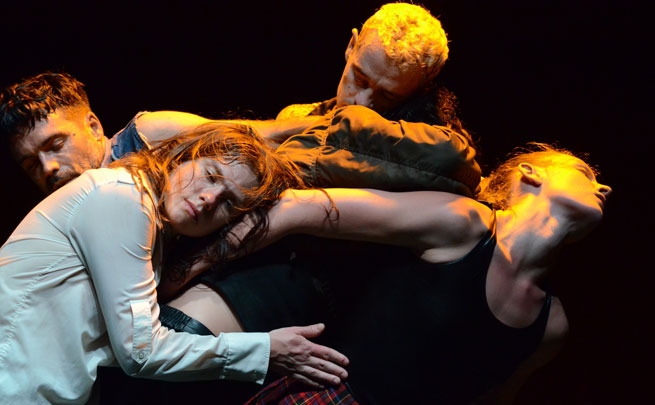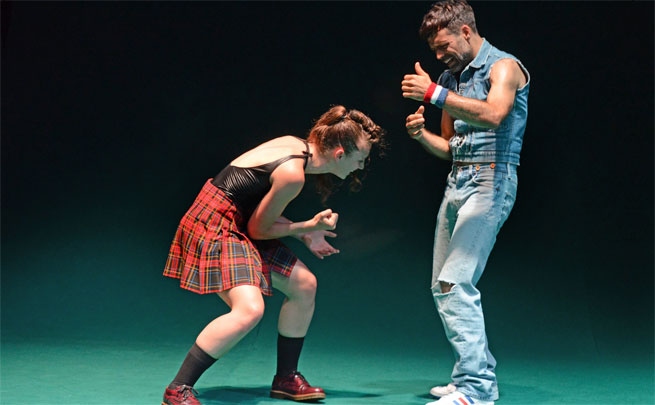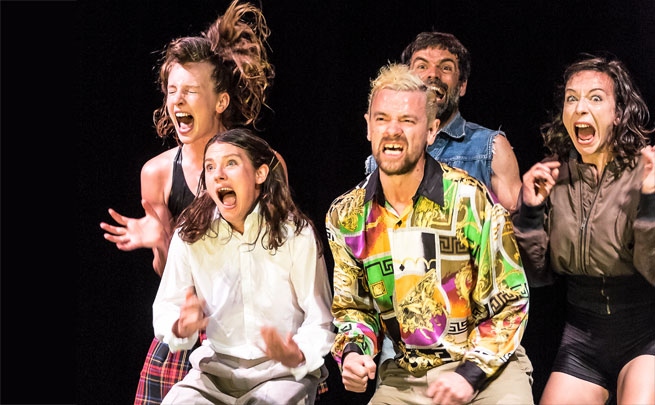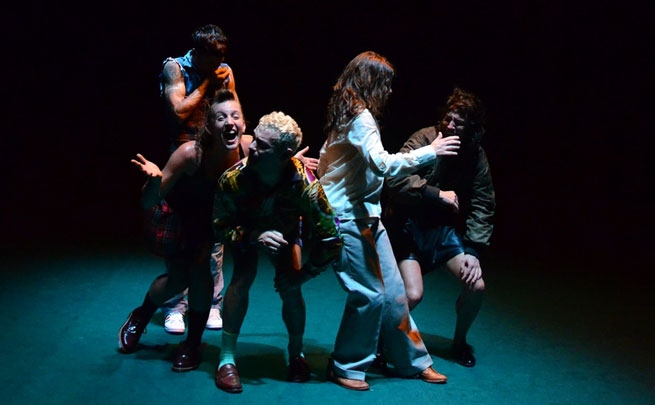 Performance is approximately 60 minutes with no intermission.
Quirky and inventive, Flemish choreographer/dancer Lisbeth Gruwez is emerging as an important and original new voice in contemporary dance. In AH/HA, a collaboration with her creative partner, sound artist Maarten Van Cauwenberghe, she investigates the mechanics of laughter. Five dancers, Gruwez among them, converge and gravitate towards one another, isolated yet seeking communion. They begin to laugh – silently, emphatically, raucously, timidly. The vocabulary of the body laughing – slapped thighs, bodies crumpled in delirium, the torso shaking helplessly – becomes captivating, unifying and provocative dance.
Related Articles
Dance: Lisbeth Gruwez's Ah Ha moment, Montreal Gazette, Victor Swoboda
_____________
Co-producers: Rencontres chorégraphiques internationales de Seine-Saint-Denis, Next Festival, Theater Im Pumpenhaus, Théâtre d'Arras – TANDEM ARRAS-DOUAI, Dampfzentrale, Le Triangle – Scène conventionnée pour la danse (Rennes), Théâtre La Bastille, Les Brigittines, AndWhatBeside(s)Death, MA scène nationale – Pays de Montbéliard, Troubleyn | Jan Fabre. Residencies: Troubleyn | Jan Fabre, KVS, Les Brigittines. Supported by NONA, Provincie Antwerpen & De Vlaamse Gemeenschap.
"Simultaneously funny, intelligent, delicious in its most minute detail, AH/HA is a meditation on the body, driven and affected by a transcending energy."

Agnès Izrine, Dansercanalhistorique
AH / HA
Five bodies meet at a locale without a name, perhaps even in the middle of the night. On the rhythm of the circumstances they slowly grow towards one another, the way trash sometimes gathers in a deserted street. But their synergy confers unexpected power on them. They coalesce in one of the most expressive manifestations of humankind: laughter, resulting in an encounter that becomes a dangerous feast of shared ecstasy.
With AH/HA, Voetvolk moves on to the cutting edge of its investigation of the ecstatic body. The performance explores the wealth of plastic variations of the laughing body, making its physical and psychic impact tangible for the viewer.
AH/HA is the first group performance of Voetvolk.
Concept & choreography: Lisbeth Gruwez
Composition & sound designn: Maarten Van Cauwenberghe
Performers / Interprètes:
Mercedes Dassy, Anne Charlotte Bisoux, Lisbeth Gruwez, Vicente Arlandis Recuerda, Lucius Romeo Fromm
Stylist: Catherine Van Bree
Artistic Advisor: Bart Meuleman
Light Design: Harry Cole
Light Assistance: Caroline Mathieu
Contributor production: Liesbeth Stas