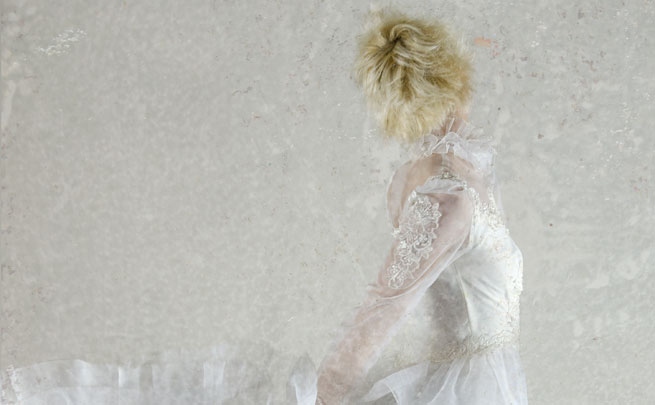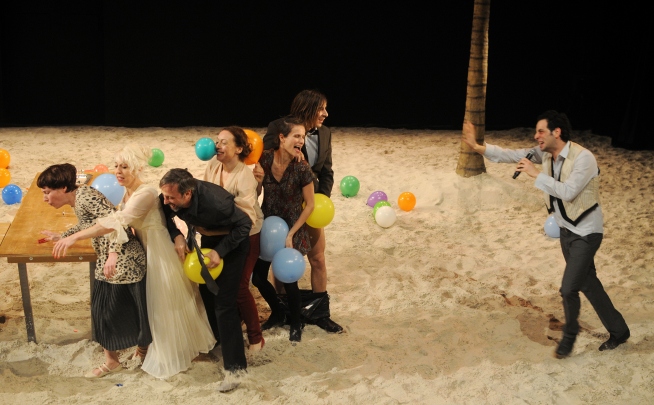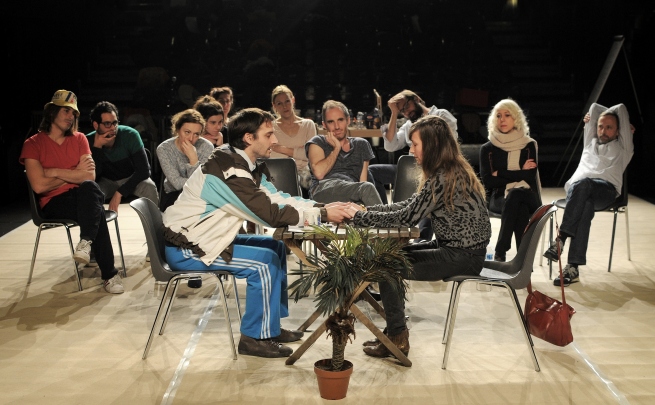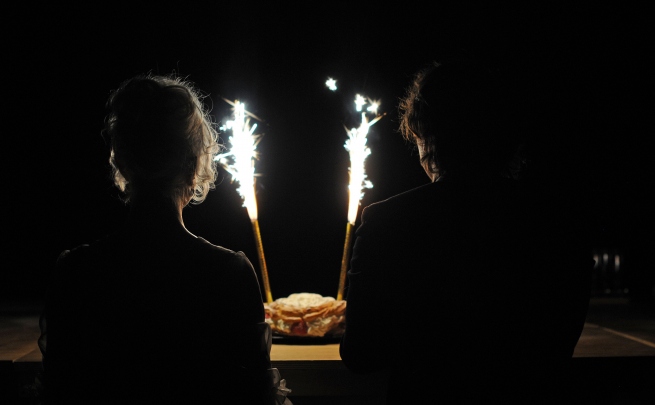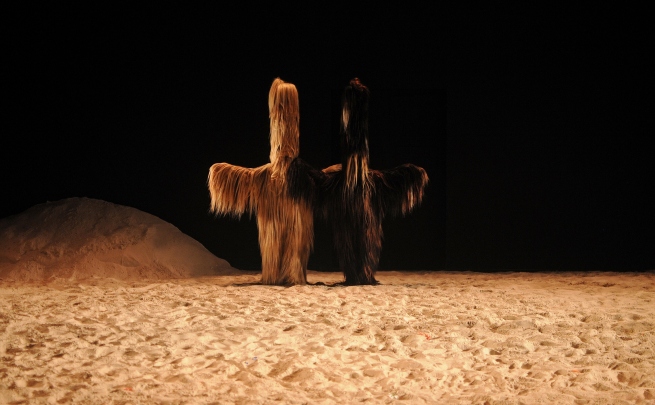 "Sex is part of nature. I go along with nature." (Marilyn Monroe)
From the moment they first got together in 2005, Les Chiens de Navarre have invested every performance with their direct and surrealistic style. Stretching fragments of reality to the point of caricature, this French collective delves fearlessly into the primal impulses that drive our everyday behaviour. Worked and re-worked through group improvisations and scenarios conjured by director Jean-Christophe Meurisse, our social masks and trite conversations come out the worse for wear. In this unconventional theatre, riding the edge of theatre of cruelty and Dadaism, the violence of the subconscious sparks a joyous and dangerous deflagration. At once cynical, genial, childlike and clownish, the actors' performance propels the show along the slope of a regression that leaves the audience both delighted and bewildered by such impertinence. This explosive recipe has been tried and tested in such successful productions as Quand je pense qu'on va vieillir ensemble, Une raclette, and Regarde le lustre et articule. The high-spirited collective makes its NAC debut with Les armoires normandes ("the Norman wardrobes"), a show that has toured extensively and gathered a cult following in the process. Strangely, no Norman wardrobes actually appear, but that doesn't stop Les Chiens de Navarre from giving free rein to a nonconformist theatre that celebrates the moment with furious humour.
With

Caroline Binder, Solal Bouloudnine, Isabelle Catalan, Claire Delaporte, Céline Fuhrer, Robert Hatisi, Charlotte Laemmel, Manu Laskar, Thomas Scimeca, Maxence Tual and Jean-Luc Vincent

Produced by

Le Grand Gardon Blanc and Les Chiens de Navarre
Learn More:
A collective creation by Les Chiens de Navarre
Director: Jean-Christophe Meurisse
Assistant director: Amélie Philippe
Artistic associate: Isabelle Catalan
Lighting and stage management: Stéphane Lebaleur
Sound: Isabelle Fuchs
Costumes: Élisabeth Cerqueira
Construction: François Gauthier-Lafaye
Head stagehand: Flavien Renaudon
With Caroline Binder, Solal Bouloudnine, Claire Delaporte, Céline Fuhrer, Charlotte Laemmel, Manu Laskar, Thomas Scimeca, Anne-Elodie Sorlin, Maxence Tual, Jean-Luc Vincent, and an appearance by Robert Hatisi
Residency and coproduction: Les Subsistances (Lyon), C.I.C.T. and Théâtre des Bouffes du Nord (Paris)
Coproduced by L'apostrophe, scène nationale de Cergy-Pontoise • Maison des Arts de Créteil • Théâtres Sorano – Jules Julien (Toulouse) • La Faïencerie, Théâtre de Creil (scène nationale en préfiguration) • Le Carré – Les Colonnes, scène conventionnée de Saint-Médard-en-Jalles et Blanquefort • Palais des Beaux Arts (Charleroi) • L'Arsenic (Lausanne)
With the support of the Direction Générale de la Création Artistique
Les Chiens de Navarre are funded by DRAC Île-de-France – Ministère de la Culture et de la Communication and by Région Île-de-France through its Artistic Permanency program.
With production support from CENTQUATRE, Ferme du Buisson / Scène nationale de Marne-la-Vallée and Théâtre de Vanves, scène conventionnée pour la danse