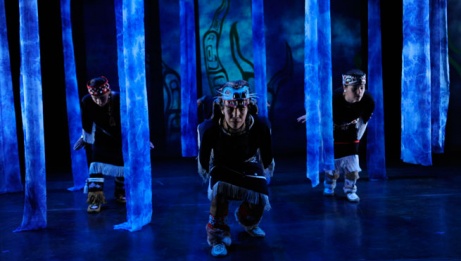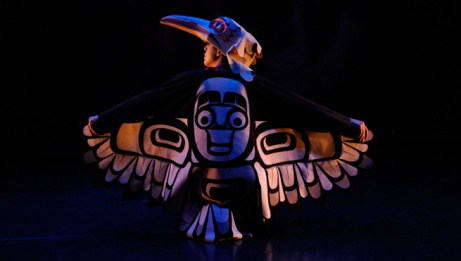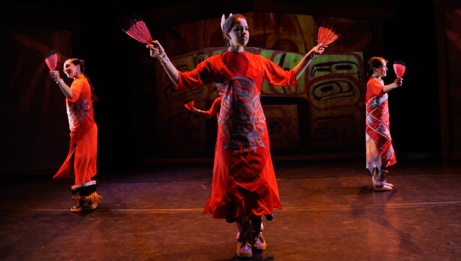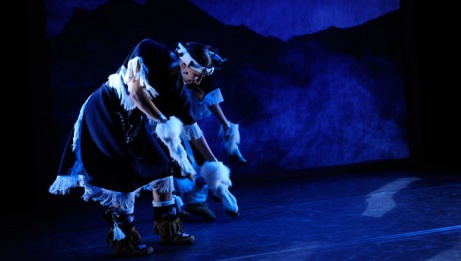 "… as leader of the Gitxsan Nation's Dancers of Damelahamid, Margaret Grenier is understandably conscious of her role in furthering and fostering an ancient tradition."" The Georgia Straight
≈ 70 minutes · No intermission
Ottawa Premiere
Dancers of Damelahamid bring their newest work Flicker to Ottawa in their first performance at the Canada Dance Festival. Created in collaboration with multi-media artist Andy Moro, Flicker combines Northwest coast graphic designs with projected environments and performance. Vividly rich imagery, representative of the spirit world and the mystical realm, are portrayed through coastal masked dance.
The flicker - a woodpecker from the Northwest Coast – is a transcendent figure often represented in traditional masks. Just as light shimmers, it is through the cloak of the flicker that the masked dancers cross through space and time, in and out of the spirit world of their ancestors.
Flicker bridges the artistic practices of traditional First Nations and modern forms – including coastal dance, Powwow, contemporary movement vocabularies and multi-media technology – in a new and innovative work that reflects upon the complexity of contemporary Indigenous identities. Demonstrating how we can access our true potential, without limitations, Flicker guides audiences through a journey to acquire our ancestral gifts, strengthening our capacity to create change.
Vancouver-based Dancers of Damelahamid are a professional Aboriginal dance company from the northwest coast of British Columbia. The Gitxsan, 'people of the river of mists' are part of the coastal group of cultures with a rich history of masked dance. Through dramatic dance, captivating narrative, intricately carved masks and elaborate regalia, the Dancers of Damelahamid bridge the ancient with a living tradition.
This is the debut performance at the CDF for Dancers of Damelahamid. Flicker is a co-production of the Canada Dance Festival and the Cultch (Vancouver East Cultural Centre).
"There had been such a long period in which all of these practices had been banned, so the focus was in looking at the knowledge and trying to reawaken it. There was an expression that my grandmother used to use: that the culture had been asleep and that it was time to awaken it. And what I think you're seeing now is that more public songs and dances are being created, based on the traditional forms, in order to ensure that they can be shared."
– Margaret Grenier, Artistic Director, Dances of Damelahamid
PRESENTING SPONSOR :
Anndraya Luui
Enhance your dance – Pre-show chat.
Join Amy Bowring, Director of Collections and Research at Toronto's Dance Collection Danse, and First Nations artist Brittany Johnston, CDF Indigenous Programming Outreach Coordinator for a free, informal and informative pre-show chat at the NAC Main Lobby Intermission Bar.
Light refreshments are available for purchase.
Intermission Bar opens at 5pm.
Pre-show chat begins at 6:15pm.