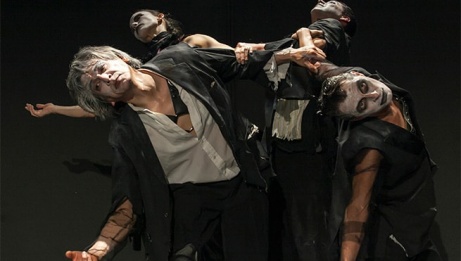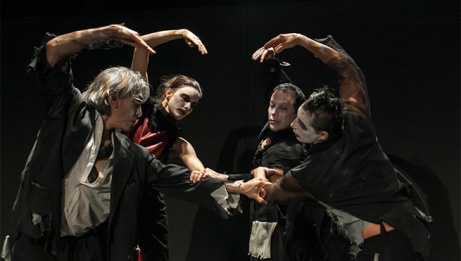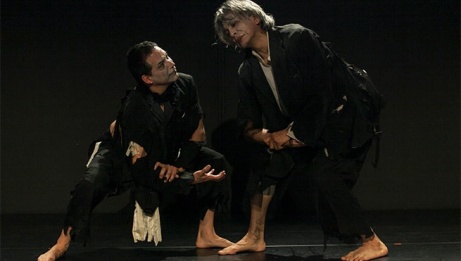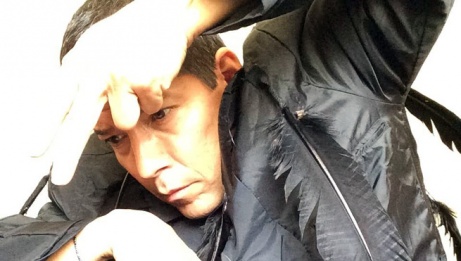 "... a blend of native and contemporary dance […] the premise behind Greed is clever."" Paula Citron, Globe & Mail
World Premiere
Commerce, greed, and disenfranchisement are key themes in this collaborative evening of two new dance works, created by Vancouver's Byron Chief-Moon and Ottawa-based JP Longboat. Multiple narratives are drawn through these choreographies: the individual confronting society; attaining self-realization and freedom; greed and imbalance; and Traditional Knowledge and Values in the face of corporate capitalism. These performances highlight Canada's systematic marginalization of First Peoples from the land, its resources, and their way of life.
Layering First Nations world views on the dissonance of agency that exist throughout society, Greed is an examination of today's exploitative stock market and the crippling effects of corporate self-indulgence and exploitation.
REsolve addresses de-colonization of both self and homeland through an awakening of the individual confronting an authoritarian system, and implores all peoples to take control of their own destiny by challenging economic slavery and psychological bondage.
Greed and REsolve are created with and performed by Byron Chief-Moon, JP Longboat, Luglio Romero and Olivia C. Davies.
Jerry Longboat is Mohawk-Cayuga, Turtle clan, from Six Nations of the Grand River in Southern Ontario. Jerry has a BFA degree in Visual Arts from the University of Michigan and Ontario College of Art and has worked as a visual artist, graphic designer, actor, storyteller dancer and choreographer. He has performed, danced and collaborated with many professional performing companies across Canada. Jerry's performance work is rooted in his personal history and experience and embodies a vision rooted in understanding and honouring the diversity of indigenous culture.
Byron Chief-Moon is a member of the Kainai Nation of the Blackfoot Confederacy in southern Alberta. He is an actor, choreographer, dancer, playwright, and founder of the Coyote Arts Percussive Performance Association (CAPPA), a dance theatre company. Chief-Moon found CAPPA to explore dance, incorporating nuances of storytelling and his blood memory; encompassing a respect for and appreciation of Aboriginal Peoples' intergenerational culture, heritage, art, music, dance and oral history. Some of his dance theatre pieces have included Possessed, Dancing voices and Voices, as well as Jonesing, an experimental video dance piece. He is also known for his choreography work on the documentary Echoes of the Sisters and the dance film Quest. Chief-Moon is perhaps best known as the Quileute chief Taha Aki in the Twilight Saga: Eclipse.
Enhance your dance – Stay in your seats following the performance to participate in an illuminating post-show chat with Ottawa-based arts writer and Canadian dance aficionado Lys Stevens.