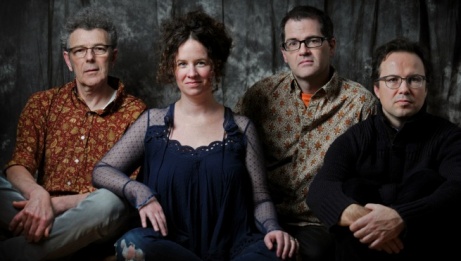 Ottawa's Megan Jerome is set to release her fifth recording, Together Ensemble, and to celebrate its launch, she invites new and longtime fans to a special concert at the National Arts Centre's Fourth Stage on Thursday May 14 at 7:30pm. 
Drawing from a musical life of family singsongs and formal training in classical and jazz piano, Megan has created a soulful and eclectic approach to singing, playing piano, arranging and songwriting. To date she has four self-produced albums that have delighted critics and audiences alike, while  topping CBC and community radio charts nationwide. For this fifth and newest album Megan has put together a brand-new band with new songs and a whole new feel.
Megan's new band, the Together Ensemble, wraps her voice and 1962 Wurlitzer in a lush instrumentation of guitar (Fred Guignon), organ (Don Cummings) and drums (Mike Essoudry). Tempos are deep and hypnotic, the dynamic range is wide, and the band envelops each song like a glowing malleable cloud.  The effect is tangible and spiritual—the songs are at once orchestral and minimal, invoking warm, abstract colours and drawing from traditional gospel, stoner jazz and meditative classical music.
"Listening to Ottawa's own Megan Jerome, it's clear that this is an artist carving her own path, drawing from a broad palette of influences while bravely averting imitation. Her delivery is much like her lyrics, disarmingly honest and inevitably charming and her joy in performing is infectious. It'll be a treat to hear Jerome's songs in a new light with a band featuring some of the city's best musicians" Chrissy Steinbock, Ottawa Blog Apt613
And to introduce the band . . .
On drums is Mike Essoudry, Megan's husband and an ever curious sound seeker who's explored rock, jazz, soul, African music, klezmer. You may know him from his work as the leader of the Mash Potato Mashers, the smash-hit marching band that made a number of records and toured Canadian jazz and folk festivals. 
Then there's the multi-talented and much in-demand Don Cummings, both "a laid back glacial geologist and a super bad B3 organ player" who in the words of Petr Cancura is "one of those musicians every musician wants to play with all night long - he makes everything and everyone sound good!"
Rounding out the group is Fred Guignon, well known in Ottawa and beyond as a soulful, tasty guitarist who plays all the right notes.
Audiences have had the pleasure of hearing Megan's concerts at New York City's Rockwood Music Hall, to the Ottawa Jazz and Blues Festivals to the Ottawa Folk Festival's mainstage where she received a Galaxie Rising Star Award. Come out and celebrate the new album, new songs and a whole new sound at the National Arts Centre's Fourth Stage with Megan & the Together Ensemble.