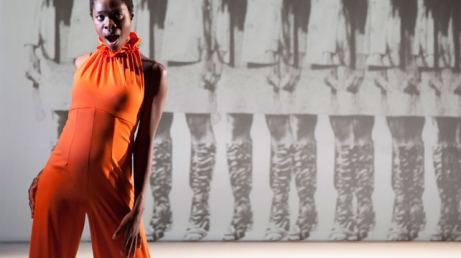 "Soprano Neema Bickersteth is all coiled energy that snatches our attention whenever she enters the room." Toronto Star
Century Song is a live performance hybrid showcasing the extraordinary Canadian soprano NEEMA BICKERSTETH. A radical revisioning of the recital form from one of Canada's most exciting theatre companies, it is part classical song, part dance, part projection, and entirely theatrical.
Inspired by Virginia Woolf's Orlando, and Alice Walker's In Search of Our Mothers' Gardens, the show imagines a different way to negotiate history. Through the eyes and voice of our soprano protagonist – a kind of modern day "everywoman" – we move through the past century in Canada, using visual art and wordless song to explore the evolution of identity.
Century Song is a Canada/Germany artistic collaboration – an electro/acoustic danceopera showcasing a state-of-the-art video design by fettFilm and music by Sergei Rachmaninoff, Olivier Messiaen, John Cage, Georges Aperghis, and Reza Jacobs, performed live.