Alton Brown Live
The Edible Inevitable Tour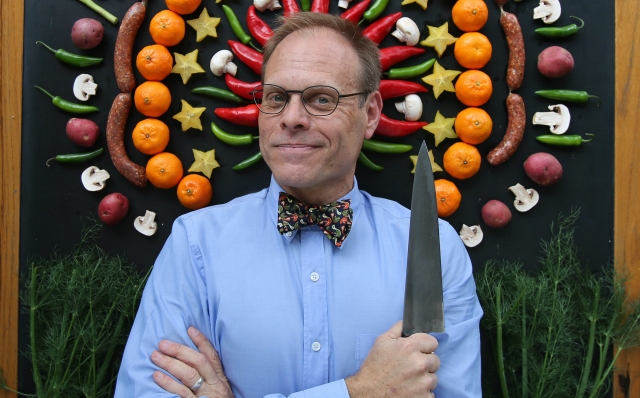 Alton Brown
Renowned foodist and television personality Alton Brown and his Alton Brown Live! The Edible Inevitable Tour, returns on the heels of the successful inaugural run to 46 US cities. Over 100,000 tickets were sold for the Food Network star's show, featuring a pinch of comedy, talk show antics, a multimedia lecture, live music (he sings!) and a dash of "extreme" food experimentation (ponchos are provided for those in the first few rows), and of course...puppets. Enthusiastic fans and critics have raved about the interactive component where Brown invites audience members on stage to serve as his assistant.
"We have combined science, music, food, and a few other things no one in his right mind would allow me to do on TV, into a two hour extravaganza that's fun for the whole family," says Brown. He has been cultivating the show's material for about a decade and wrote most of the musical numbers which all take a comedic look at food.
Brown, author of seven books including the James Beard award winning "I'm Just Here for the Food" and New York Times bestselling sequence "Good Eats," has hosted numerous food series including "Iron Chef America." He currently serves as host on the game show "Cutthroat Kitchen" and as a mentor/judge on "Food Network Star," which premiers its 10th season on June 1st. Brown created, produced and hosted the Peabody award winning series "Good Eats" for 13 years on Food Network, which still can be seen on the Cooking Channel.
Although Alton Brown spent plenty of time in his mom's kitchen growing up, his real interest in food sparked in college when he discovered that girls who said "no" to dates sometimes said "yes" if he offered to cook for them. His social life may have not ignited, but the food spark did, and after spending a decade behind the camera in the commercial industry, he headed to culinary school in hopes of one day creating a new kind of cooking show. Good Eats, the show that Brown would go on to write, produce, and host ran for 13 straight years on Food Network before making the jump to Cooking Channel where it airs today. Combining food science, pop culture, skit humor, innovative cooking, and the occasional belching puppet, Good Eats has millions of fans and garnered a coveted Peabody award for broadcast excellence.