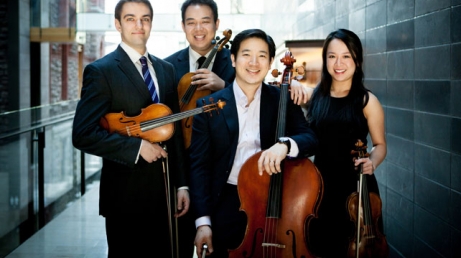 Playlist / Shuffle is not your grandmother's classical music concert. Over the course of an hour, the AFIARA QUARTET will curate in real time, reaching into their wide-ranging repertoire to perform an improvised set list, playing what they love to play, without pause. The result is unpredictable, eclectic, fast, and fun, as the program veers from Schumann to Reich to hip-hop and spoken word.
The Afiara have taken their lively interest in new works and their fresh insight into core classical repertoire to performances around the world, from Carnegie Hall to Sao Paulo's Museum of Modern Art to London's Wigmore Hall. They are currently the Glenn Gould School Fellowship Quartet-in-Residence at Toronto's Royal Conservatory of Music.
An ensemble for the 21st century, the Afiara are defined by their pursuit of discovery, meaning, and innovation as musical ambassadors for their generation.