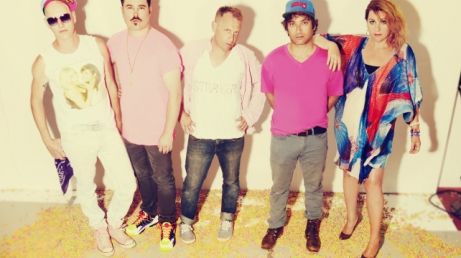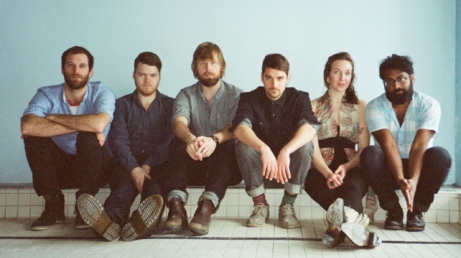 Stars
Like their celestial namesake, Stars only come out at night. It's been 14 years since the Montreal band debuted with an album of intimate synth-pop whispers titled Nightsongs.
Stars' albums have always served as thermochromic barometers of their makers' emotional well-being, be it the romantic up heaval of 2003's Heart and 2004's Set Yourself On Fire, the newsticker-triggered discontent of 2007's In Our Bedroom After the War, the downcast elegies of 2010's The Five Ghosts (a requiem for singer Torquil Campbell's father, who passed away during the album's creation), or the rejuvenation of 2012's The North (recorded while inter-band couple Amy Millan and Evan Cranley were in the throws of new parenthood).
However, as Millan admits, the band initially approached its new seventh album from a place of relative stability. "We've always had so many things defining every album, whether it was the band going through a difficult emotional turmoil, Torq's father passing away, or us having children. And now it's like: You know what? We're pretty good.This is one of the best times of our lives." This time around, Stars decided to scratch the seven-album itch by shaping their own environment. After inheriting the Mile End rehearsal space vacated by the then-disbanding Handsome Furs, Stars refashioned the space—"basically a dirty apartment", says Cranley— into a fully operational studio, where recording for No One Is Lost began last December with old friend Liam O'Neil (Metric, The Stills) behind the boards.
No One Is Lost is the radiant flash of pink neon that lights the way. So, go dance.
Hey Rosetta!
SECOND SIGHT, Hey Rosetta!'s first album in nearly four years represents the longest musical gestation in the band's history. In part, the delay was due to the lengthy touring cycle following the success of their last album Seeds, which was short-listed for the Polaris Music Prize, and resulted in the band's first JUNO nomination (for New Group) and a performance on the awards telecast. There was also the band's determination to expand their sonic horizons and, as songwriter Tim Baker puts it, "let each song come on its own terms and become what it will, unencumbered by some predetermined thesis or structure or symbolism."
Over the near decade playing together, Hey Rosetta!'s collective sound has been lauded as unmistakable. They are a band that connects in an almost intangible, unexplainable way. Tim Baker's haunting and distinctive voice and his writing, with a lyrical sensibility that defines the band as one of the most poetic Canada exports; the rolling indie-rock precision meeting hooky pop sensibilities, offset by the delicate touch of cello, violin (and now french horn), that cuts through the most cramped club or across any vast open air festival stage.
SECOND SIGHT became a way for the now seven-member band to experiment with their sound even further. Shifting more into musical textures, you can feel building up around you in tracks like, What Arrows and Promise. The instantly resonant choruses and lyrical depth all helped arrive at an album sound that Hey Rosetta! cellist and multi-instrumentalist Romesh Thavanathan calls "warm, yet mysterious."
Baker likens the process to "swimming in a river of modern music", and eventually moving with the flow of that river into uncharted musical waters. Says their producer, Marcus Paquin: "I feel like it encompasses a wider range of musical influences than what I've heard from them before. Tim's lyrics have expanded. Musically and dynamically, this record has a very wide range. And Tim's unmistakable voice is the glue that holds everything together."
Hey Rosetta!:
Tim Baker (vocals, keys, guitar)
Adam Hogan (guitar)
Josh Ward (bass, vocals)
Phil Maloney (drums)
Romesh Thavanathan (cello, guitar, keys)
Kinley Dowling (violin)
Mara Pellerin (french horn)