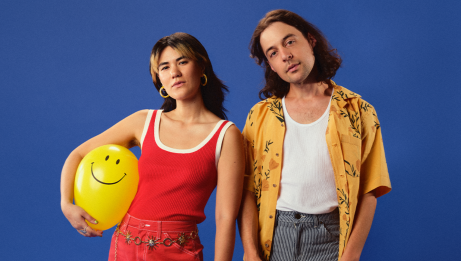 Music
Pop
Electronic
Rock
"They may be the city's best-kept secret. Their unique, compelling brand of pop rock is turning heads. One day you'll be saying 'I saw them when they were only…'" Ottawa Magazine
Pony Girl are masters of artpop, invigorating stages with a prismatic sound that's all their own. Hailed for their "evocative soundscapes" (CBC Radio), "ability to push the boundaries that define pop-rock" (Mixtape Magazine), and "musical depth quite astonishing to experience in person" (Exclaim!), Pony Girl is a rare gem worth uncovering.
Their album Enny One Wil Love You (2022), received a record-high six nominations for Capital Music Awards and won the awards for Single of the Year and Video of the Year ("Age of Anxious"). Pascal Huot and Yolande Laroche's duets anchor it all, wonderfully illuminating the inner worlds of imperfect characters.
Laff It Off (2023), Pony Girl's sophomore album for Paper Bag Records casts the warm light of golden hour onto their artpop, guiding characters who are floating towards hope. Pony Girl is a kaleidoscope of pop unlike any other, turning everyday life into mesmerizing melodies, rock and electronic production. Multi-genre and multi-faceted, Pony Girl will command your adoration.