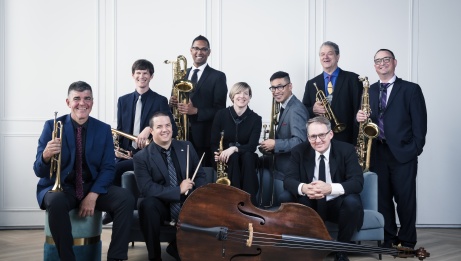 The Carn Davidson 9 (CD9) was formed in 2010 as a collaborative project between JUNO Award-winning artists, trombonist William Carn and saxophonist Tara Davidson. CD9 is a nine-piece chord-less ensemble that utilizes its seven horns as melodic, harmonic, and rhythmic devices, anchored by bass and drums. This co-led ensemble is an opportunity for both artists to craft their compositions for this chamber jazz instrumentation.
CD9 has produced three recordings. Their debut recording, Nine, was released in 2012; Murphy was released in 2017; and The History of Us was released in 2021. All three of CD9's recordings have garnered JUNO nominations for Jazz Album of the Year. CD9 will be releasing their fourth studio recording in Spring 2024.
CD9 is… Tara Davidson, woodwinds; Kelly Jefferson, woodwinds; Shirantha Beddage, woodwinds; Jason Logue, trumpet; Kevin Turcotte, trumpet; William Carn, trombone; Christian Overton, bass trombone; Andrew Downing, bass; and Ernesto Cervini, drums.