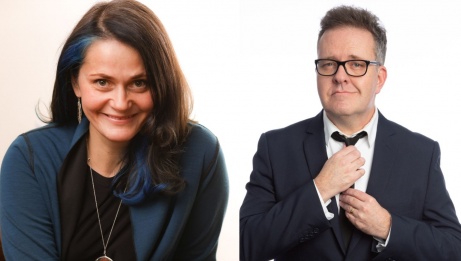 Entrance is free! Please reserve your tickets to ensure you have a seat.
Hundreds of thousands of people watch Brittlestar's videos every week.
His comedic and family-friendly videos have been seen more than 600 MILLION times on various platforms.  His KFC video campaign was the most popular branded video content in the world on Facebook for the summer of 2017.
With a global fanbase, an invitation to the White House, speaking engagements all over North America, commentary segments on Global National, a panelist on CTV National News, starring in the Dreamworks TV show 'Kid vs Parent' with his youngest son, collaborations with celebs such as Ryan Reynolds, Gordon Ramsay and The Property Brothers, and meet-and-greets at PlaylistLive, Brittlestar is living the social media celebrity dream… not bad for a Dad from the suburbs.
Brittlestar, or Stewart Reynolds (as his mom calls him when he's in trouble), is the father of two young men, Owen (award winning podcast producer) and Gregor (social media personality and speaker). These three guys, along with Brittlestar's wife, Shannon, have created viral videos for a variety of brands and organizations such as Disney, ESPN, Subway, CBC, Walmart, Kal Tire and others.
Jillian Horton, M.D., is an award-winning medical educator, writer, musician and podcaster. A former Associate Dean at the University of Manitoba, she has cared for thousands of patients in an inner-city hospital, and now works to provide care to people living with addiction. She is the winner of the prestigious 2020 AFMC–Gold Foundation Humanism award, recognizing her as a national thought leader in medical education and the delivery of compassionate and humane care. As a teacher of mindfulness, she is sought after by doctors at all stages of their careers, and she leads the development of national programming in physician health for Joule, a subsidiary of the Canadian Medical Association. Her writing about medicine appears frequently in the LA Times, the Globe and Mail, and the Toronto Star, and her first book, We Are All Perfectly Fine, now a national best seller, was released by HarperCollins Canada in Feb 2021.
*You can find all previous Arts, Medicine & #Life talks as podcasts here.